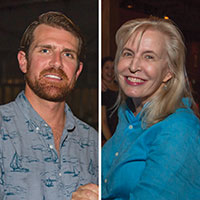 Vero Council recaptured by majority favoring electric sale
STORY BY LISA ZAHNER
Photo: Lange Sykes and Laura Moss

A well-financed effort that backed a slate of Vero Beach City Council candidates committed to the sale or partial sale of Vero electric scored a stunning victory Tuesday as voters elected Laura Moss and Lange Sykes to join holdover councilmember Harry Howle in forming a new 3-to-2 pro-sale majority.
Sykes and Moss, who already have said they would join with Howle in voting to accept a Florida Power & Light $30 million offer to purchase Vero electric's customers in Indian River Shores, will not actually be seated until Nov. 21.
Retired Army Col. Tony Young, who had declared he was against selling off the Shores customers at any price less than $47 million, won the third seat up for grabs and will presumably replace Mayor Jay Kramer's anti-sale vote on the council.
But the election – assuming the result stands – puts pro-sale forces in the Council majority for the first time since 2013, when a "Keep Vero Vero" movement opposed to giving up the millions of dollars harvested by the electric utility each year from out-of-city customers gained the upper hand on the Council.
The only incumbent on the ballot, Randy Old, who led the slate pledging to hold out for $47 million for Vero electric's Shores customers, finished a surprise fourth, 48 votes behind Sykes, who came in third.
Supervisor of Elections Leslie Swann said late Tuesday there were 211 provisional ballots countywide left to be reviewed for validity, but it was not known how many of them came from city's five precincts. 
Those ballots were to be reviewed and possibly counted on Thursday, and if the margin separating Sykes and Old was less than half of one percent, that would trigger an automatic machine recount unless Old voluntarily agreed to forego the recount process.
If a recount was needed, it would be noticed and scheduled for a future date.
While the likelihood of a sale of Vero electric in its entirety – the original goal – remains dim, FPL is expected to move quickly now to renew its offer to purchase the Shores' customers, and the new Council seems likely to quickly accept it.
The current Council rejected the $30 million offer in August, and the offer expired.
FPL Manager for External Affairs Amy Brunjes, asked Tuesday night about a possible purchase of the Shores customers, said: "I think it's really up to [the City Council].  If they want to continue discussing it, then we would be happy to talk to them."
Brunjes said FPL is still committed to a solution that would provide lower rates for all Vero Beach customers.
"At this time, we are not making a new or revised offer, but are looking forward to talking to the new Council about potential options."
Indian River Shores mayor Brian Barefoot, attending an election watch party in John's Island, said he was "quite pleased with the results of the Vero Beach council election and looking forward to working with the new [Vero Beach] Council to see if we can put all of the rancor behind us.
"Emotions have run pretty high. The residents of Vero Beach want this thing resolved one way or another. A little more aggressive approach taken by the City Council and who knows what could be accomplished?" Barefoot said.
Sykes said he wanted to thank everyone who helped him, including the Shores residents who supported his candidacy.
A number of Shores residents joined FPL in making large contributions to  a political action committee, Clean Sweep for a Brighter Tomorrow, that waged a high-powered campaign for Moss, Sykes and Normal Wells, who finished last.
"Too often people forget that the [electric] customers outside the city don't get a voice and the only way they can affect the city elections and the people who set the rates is to support the candidates they believe in," Sykes said.
The barrier island realtor, artist and environmental activist said he very much looks forward to getting to work not only on the electric issue but also on the Indian River Lagoon and on stopping the All Aboard Florida project.
One of the first tasks for the new Council will be to elect a mayor to lead them through the coming year's challenges.