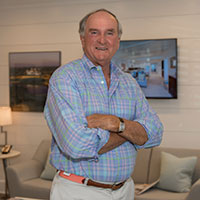 Summer doldrums? John's Island reports record sales
STORY BY STEVEN M. THOMAS
Photo: Bob Gibb, owner/broker of John's Island Real Estate Company.

The myth of a summer slowdown in the Vero Beach housing market was put to rest last week when John's Island Real Estate reported it had closed more than $32 million in sales in July, an all-time sales record for the month.
A steady influx of British buyers, friends and family of existing club members, and "a tremendous increase" in buyers from California are driving sales, according to Bob Gibb, owner/broker of John's Island Real Estate Company.
July sales included 10 single-family houses and 1 condominium that ranged in price from $850,000 to more than $6 million. The $32 million in closed deals far surpassed the previous July sales record of $20 million set in 2008.
"In spite of everything going on in the world, economically and politically, and political uncertainty here, we have a market that has continued to surprise me," Gibb said.
"I think it is a case of clients seeing that John's Island Club is proactive in making sure programs and facilities here are second to none. With that approach, I think buyers sense, consciously or subconsciously, that JI is one of a kind and offers the broadest range of amenities and best lifestyle."
Gibb mentioned the brand-new, $10 million renovation of the club's 55,000-square-foot golf clubhouse, which included expanding two alfresco dining venues along with many other improvements; the addition of four lighted pickleball courts; and the just-completed renovation of community entrance areas as examples of how the club continues to invest in new amenities and property improvements.
"As family members mature and look back on great memories of experiences at John's island, we are getting very good second- and third-generation buy-in."
Gibb attributes the July sales success to the expertise of the company's seven in-house agents, as well. John's Island Real Estate agents live in the community and list and sell property only in JI, capturing 92 percent market share, according to Marketing Director Robyn Flick.
"In an area as unique as John's Island, you truly need a John's Island specialist," says Gibb. "As stewards of the community, we are fully committed to the future of John's Island.
"Our clients place a great deal of trust in us, and they are rewarded with outstanding personalized service backed by impeccable integrity. The strength of the relationships we build within our community is the very fabric of our long-term success."
So far this year, the company has sold 85 homes and condominiums.
John's Island Club is the barrier island's largest and most iconic community, with a wide range of housing types located between the Atlantic Ocean and the Indian River Lagoon.
Recently home to the 2015 USGA Mid-Amateur Championship, the 1,650-acre, private enclave provides its members with world-class social and recreational amenities including numerous dining venues, three championship golf courses, 17 Har-Tru tennis courts, squash, croquet, a state-of-the-art health and fitness center, water sports and a luxurious beach club.