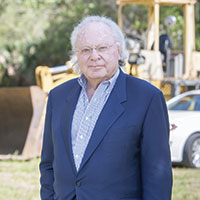 Trial of George Heaton in bank fraud case set for next February
STORY BY LISA ZAHNER
Photo: Developer George Heaton.

The federal court in West Palm Beach has agreed to give legal teams for George Heaton and his co-defendants another 10 months to prepare a defense in the complex case involving alleged bank fraud arising from closings on condo units at the Vero Beach Hotel and Spa nearly a decade ago.
Heaton, who developed the hotel with business partners, is accused of not accurately reporting millions of dollars in buyers' incentives that he is said to have refunded to buyers after the real estate closings on the condos, using different bank accounts and a West Palm Beach law firm to handle those "cash to close" paybacks.
Charging documents say four different banks relied upon allegedly false information when making up to nine separate mortgage decisions. Heaton's closing agent and his former bookkeeper are also charged with conspiracy and fraud and, if convicted, each faces up to 30-year prison sentences and millions in fines and restitution to the banks for losses.
Judge Robin Rosenberg set the trial date for next Feb. 5 and blocked off two weeks for the case to be heard, with attorneys required to give the court a status update on June 28. Heaton did not appear in court last week at the hearing where the trial date was set, and he has also waived appearance at all future proceedings, according to court documents.
"Defendant Heaton specifically understands his right to attend the status conference, all hearings and court proceedings, but expressly waives his attendance and authorizes his counsel of record to appear and speak on his behalf.  Defendant Heaton authorizes and approves the positions advanced by his counsel of record in all respects, including the setting of a trial date on or after a period through February 5, 2018, and through the conclusion of trial," the waiver states.
Heaton is represented by a team of three renowned criminal defense attorneys from South Florida.