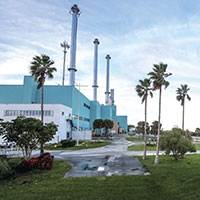 Hopes rising over outlook for Vero Electric sale
STORY BY LISA ZAHNER

A series of meetings over the past two weeks, including one executive-level session in Orlando involving the Florida Municipal Power Agency, have improved the chances of closing a sale of Vero Electric to Florida Power & Light.
According to Vero Beach City Manager Jim O'Connor, the city may even wind up avoiding costly litigation over the disputed $50 million exit penalty demanded by Orlando Utilities Commission.
"Based on recent conversations, I think a solution is achievable without court," O'Connor said.
He confirmed that a productive meeting took place on July 25 involving the city, FPL and FMPA, and added, "Bottom line we feel that positive progress is being made to close the deal by the fourth quarter of 2018."
FPL Regional Manager for External Affairs Amy Brunjes said last Friday that FPL expects a formal sale and purchase agreement to be executed next month. "We are optimistic about closing the full sale in late 2018 pending three key milestones and barring any issues that are unforeseen at this time," Brunjes said.
"First is the execution of the Purchase and Sale agreement.  Our goal for this is early September.
Second are the regulatory approvals: Florida Public Service Commission and the Federal Energy Regulatory Commission. Assuming the contract is signed in September, we will make these filings before the end of the year," she said.
The final piece of the puzzle, and possibly the most elusive, would be Vero's exit from its long-term entanglements with FMPA, the state electric co-op – ties that it will take at least $108 million to sever.
"Lastly, and certainly not least, are the necessary approvals from 19 FMPA cities. FMPA is working closely with us and with Vero and we are so pleased about this," Brunjes said.
FPL and Vero first talked about the possibility of a utility sale after the 2009 city council election. By 2011 parties were working from a formal offer and hopes were high about closing the deal.
But negotiations have been stalled since the spring of 2013, only springing back to life in the past six months with a new, $185 million offer that would leave Vero with up to $30 million in working cash after debts, liabilities and exit penalties are paid to the FMPA and Orlando Utilities Commission.
That deal hit a snag this summer when OUC notified the city that it intended to invoke the larger $50 million exit penalty in Vero's wholesale electric contract, instead of the $20 million penalty that Vero and FPL's lawyers had banked on. Vero gave OUC notice that it wanted to begin pre-trial mediation proceedings on the dispute.
"A mediator has not been selected yet due to discussions to work out the issue without court," O'Connor said last week.
Should a full sale of the system not be possible, FPL and the city have stated that they would revert back to previous plans to sell just the Vero Electric customers in the Town of Indian River Shores for $30 million.
Brunjes was set to brief the Vero Beach City Council Tuesday on developments, and said the parties intended to work right up to that presentation to bring Vero officials the absolute latest and most accurate information.