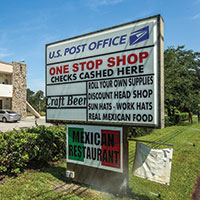 South Florida fraud scheme comes to Vero
STORY BY BETH WALTON
Photo: Vero Beach convenience and check cashing store, which detectives say man left with Corona box filled with $143,000.

In the early morning hours one Saturday in June, detectives watched as Erick Alberto Gonzalez Rosario left a Vero Beach convenience and check-cashing store on U.S. 1 near Wabasso carrying a Corona box. It didn't contain  Mexican beer.
When the detectives pulled over Rosario's car a few minutes later, police discovered the Corona box was stuffed with $143,000 in cash – just-laundered money, they say, that was partial proceeds from a multimillion-dollar workers' comp and insurance fraud scheme.
Rosario, 33, was arrested and is now in the Indian River County jail with his bond set at $300,000. He is charged with multiple counts of fraud and money laundering. An associate, Maynor Hernandez, 29, was arrested later and faces similar charges, in addition to allegations of racketeering.
Both men have pled "not guilty" and requested a jury trial. They face maximum penalties of 30 years if convicted. The men will be tried at the Indian River County Courthouse but no trial date has been set.
Authorities believe the men's activities are evidence that a popular South Florida fraud and money laundering racket has now made its way to the Treasure Coast – a scheme that exposes the dark underbelly of the construction industry.
Detectives allege the $143,000 they found in the Corona box was obtained illegally through a shell business established to defraud workers' compensation insurance providers and conceal illicit funds.
In an affidavit to the court, Robert Wolfkill, a detective with the Florida Department of Financial Services, explains the scheme.
A shell company – a registered business that has no significant assets or operations – is established for the sole purpose of acquiring minimal workers' compensation and employer's liability insurance, he writes.
Typically, the fraudulent policy will cover a small number of laborers doing low-risk work, even though the shell company may have no employees actually performing construction work.
Because a certificate of workers' compensation coverage in Florida does not include the names of workers insured, unscrupulous subcontractors make it appear their employees are working for the shell company and so are insured.
These subcontractors, who are actually paving a road or building a shopping center, funnel millions of dollars in checks for the employees they are "renting" to the shell company, which turns the checks into cash, pays the workers, and provides the contractors with "proof" of liability insurance and workers' comp to show when they are bidding a project.
Because these subcontractors are not paying workers comp and liability insurance, they are able to win jobs by submitting much lower bids than legitimate subcontractors.
Similar schemes have successfully been identified and dismantled in Miami-Dade, Broward, Palm Beach, Lee and Orange counties, Wolfkill tells the court.
The investigation in Indian River County was triggered in March when detectives checked on the amount of money flowing through Vero check cashing stores by querying a state database. 
Money service businesses, such as check cashing stores, are often used to transfer funds from subcontractors to shell companies to avoid detection, and these businesses are required to report their transactions to the state.
Wolfkill was probing the work of a Broward County contractor known to rent labor from shell companies in order to launder money and commit workers' compensation fraud, the affidavit states. He worked alongside a detective with the Broward County Sheriff's Office Strategic Investigations Money Laundering Task Force.
The contractor is not named in court documents, but one of the contractor's payees, EAR Construction Services Corporation, had cashed some $2.6 million in checks over the course of four months at One Stop Shop, a business that provides check-cashing services at 8108 U.S. 1 in Wabasso.
The amount far exceeded the payroll that would have been anticipated based on its workers' compensation policy, which named just one worker, the affidavit states.
Further investigation showed EAR Construction Services, a business registered to Rosario in October 2016 at a Port St. Lucie residential address, received a total of $5.5 million from similar check-cashing stores in less than eight months.
Had the insurance company based EAR Construction Services' premium on a payroll of $5.5 million, a policy would have cost around $888,360, the affidavit states. Instead, since only one employee was listed on the policy, Rosario was billed just under $4,800.
EAR Construction Services was established by Rosario in October 2016, according to the affidavit. The business address listed is a single-family home on southwest Citation Avenue in Port St. Lucie.
Rosario told detectives that Hernandez helped him incorporate the business and obtain the insurance policy, the affidavit states. He said Hernandez paid him $1,500 a week to cash checks.
"He advised his company is not a real company, they have no office, no employees and conduct no real work," Wolfkill writes.
Rosario is a multi-state criminal offender with numerous convictions and an outstanding arrest warrant from the Port St. Lucie Police Department, the affidavit notes.
Hernandez, of Pompano Beach, is part of family that also has a checkered past, the detectives said. The Broward County Money Laundering Task Force has identified and arrested "multiple members of a criminal network" involving the Hernandez family, the affidavit states. Previous investigations show its members established at least three construction shell companies since 2014 to launder money through workers' compensation fraud.
Hernandez confessed to assisting with the opening and operations of EAR Construction Services through Rosario, according to the court records. He said he obtained insurance with the help of a co-conspirator and that he charges 6 percent of payroll to "rent" the policy, the affidavit notes.
He told detectives that he moved his operations from Miami-Dade and Broward counties to Indian River because it is "quiet" here, meaning the scam is not as well-known as in South Florida.
Lev Evans, assistant state attorney for the 19th Judicial Circuit Court, is one of the prosecutors gearing up to try the case. He would not talk about the specifics, citing obligations to the Florida State Bar.
"There are two sets of victims in workers' compensation fraud," Evans said. "The most immediate ones and the ones that complain are the insurance companies. They don't want to be paying out on claims where they never took a premium on the worker."
But Evans said workers too are victims.
Many times, laborers employed by scamming subcontractors are undocumented immigrants in the country illegally who may be pressured to not report injuries by the threat of exposure. In cases of insurance fraud, a worker who does report his injury may not actually be covered.
The State Attorney's Office routinely handles insurance fraud cases, ranging from disability payouts to automobile accidents, Evans said. "Cases involving fake corporations are more sophisticated and rare."
Hernandez's bond is set at $400,000. He has retained the legal counsel of Michael Ohle, a private defense attorney with offices in Fort Pierce. Ohle did not respond to a request for comment.
Rosario's bond is set at $300,000. He is being represented by a public defender.
His lawyer, Dorothy Naumann, said shortly after his arrest that she had spoken to his mother and met with Rosario in jail. He was respectful, friendly, quiet, she said. "They seem like good people. He's presumed innocent."