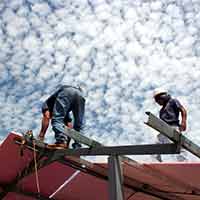 Building in Indian River Shores approaches 2005 boom
STORY BY KATHLEEN SLOAN

Construction in Indian River Shores has been ramping up in recent years, despite the seemingly built-out status of the town, and is now approaching levels last seen during the building boom in the mid-2000s.
Building and renovation permits peaked in 2005, when nearly 3,000 were pulled, and later declined drastically during the housing downturn.
The number of permits started creeping back up in 2013 and grown steadily since then, from 1,430 in 2013 to 2,260 in fiscal 2016-17.
Among the 2,260 permits, 426 were building permits, for new homes or additions, and 1,832 were "other permits" for swimming pools, screened enclosures or building trades, such as electrical, mechanical and plumbing.
Indian River Shores Building Official Jose Guanch said 53 new single-family or attached homes were built in the prior 12 months. Because of increased permit revenue the budget for Guanch's department jumped by more than 50 percent between the most recent and the current fiscal years, from $410,000 to $645,000.
New home building is divided between tear-down and rebuild projects and new home developments.
Commercial permits hardly figure into the totals because there is very little commercial property in Indian River Shores, Guanch said, "We have the 7-Eleven, the Village Shops and CVS. About 99.5 percent of our permits are residential." The number of new homes next year should break prior records, Guanch said. Big residential projects have recently broken ground or are on the horizon.
Naples-based Lutgert Companies bought 5.2 acres from Indian River Shores for $4.84 million last May. The town retained the ocean-front property for years to provide public access to the beach, but recent council members decided to return it to the tax rolls.
The site is near Indian River County's Tracking Station Beach Park and FIT's 4-acre site that was used for marine research for decades and is now for sale. Lutgert Companies has expressed interest in buying the FIT tract and doing a land swap involving the three properties that would expand its buildable acreage.
Zoning allows up to 30 units on the 5.2-acre property Lutgert Companies already owns, Guanch said. He's heard the company is close to submitting a "preliminary plan" to the town council.