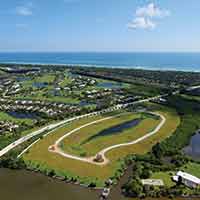 Michael Creek, prime subdivision at east end of Wabasso Causeway, coming to life
STORY BY STEVEN M. THOMAS

A new, 60-home riverfront subdivision is coming to the island, with construction starting this spring or summer, according to Treasure Coast Sotheby's broker Michael Thorpe.
Gainesville builder and developer Peter Trematerra paid $6 million for the long moribund Michael Creek property at the eastern end of the Wabasso Bridge and has crews onsite cleaning up the property and dredging the channel between the shoreline and Intracoastal Waterway.
Trematerra plans to build a 21-slip marina, along with parks and a clubhouse complex that was part of the original subdivision design created by Ironwood Properties and approved by the county a decade ago.
Once the site is spruced up, finished lots will be sold to an authorized builder or builders for prices ranging from $200,000 to $500,000, with home sites on the river fetching the highest prices. Houses are expected to range from 2,000 to 3,500 square feet in size and sell for $600,000 to about $1.3 million.
"We have had a lot of inquiries from people wanting to buy a single lot and build a home, but that is not the plan," says Thorpe, who sold the 31-acre tract to the original developer in 2006 and has been shopping it around for the hedge fund that ended up with it after the real estate crash. "Peter Trematerra is looking for a highly-qualified builder to put on their community developer hat and build homes with consistent quality and architectural style."
The architecture will be determined by the builder, but Thorpe expects something in the "transitional" style that has gained popularity on the island in the past several years, which incorporates elements of modernism without going full-on Miami Vice. He thinks the homes will sell to a mix of fulltime residents and second home buyers attracted by the resort-town location and nearby cultural and recreational amenities.
"There are 1,000 newly-retired baby-boomers moving to Florida every day, so we think the buyers will be there," says Treasure Coast Sotheby's broker associate Janyne Kenworthy, who brought the building opportunity to Trematerra's attention and represented him in the purchase.
Subdivision infrastructure, including roads, sewers and a central lake, has been in place since 2008, but no homes were ever built.
Cary Glickstein, owner of Delray Beach-based Ironwood Properties, acquired the land in two parcels in 2006, at the height of the housing boom. He bought 28 acres from the Lier family, descendants of island citrus pioneer A.B. Michael, for $16 million, and then paid another $1.6 million for an adjacent 2.8-acre parcel.
Thereafter he spent another $3 million or so on fill and infrastructure, for a total investment of more than $20 million.
As late as the fall of 2008, Glickstein still thought he could buck the down market with a well-designed community of luxury homes, but reality eventually sunk in. He put the development on hold and later lost it to his lender, who in turn sold it to the hedge fund.
"Cary Glickstein is a brilliant developer but even Superman could not have stood up to what was happening at that time," Thorpe says.
Considering Glickstein's investment, the $6 million sale price stands out as a striking bargain and Thorpe says since the sale other developers have been calling him asking if he has any other similar properties in hand.
"They all want it now, since they heard the sale price," he says. "But there is nothing else like it available."
Thorpe says there also has been strong interest from builders who want to be involved with the project.
"We are meeting with quality builders now, looking for the right fit and financial arrangements," he says. "If the developer doesn't find someone that meets his requirements, he has said he will build it out himself."