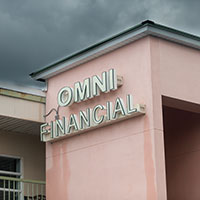 One of county's larger employers sues former staff who formed a rival firm
STORY BY BETH WALTON
Photo: The Vero Beach headquarters of Omni Financial.

Two Vero Beach debt servicing firms have taken their battle over proprietary information to court. Omni Financial, one of the larger private employers in Indian River County, is suing a group of its former employees for allegedly stealing trade secrets and setting up a rival firm in violation of non-compete and non-disclosure contracts.
Both companies specialize in locating people and businesses with large IRS or state tax liens and helping them settle their debts.
Omni Financial, which is owned by El Dorado Financial, filed a lawsuit Nov. 17 in the 19th Judicial Circuit alleging the former employees, including Omni's former president and CEO, took proprietary information and clients when they left the large firm to be part of a startup enterprise, ACS Financial.
ACS Financial and seven former El Dorado staff members are accused of breach of contract, tortious interference, civil conspiracy, breach of fiduciary duty, fraudulent inducement and negligent misrepresentation. 
El Dorado is asking the court to stop ACS Financial from operating and award damages.
West Palm Beach attorney David Gobeo of Ford and Harrison LLP states in the complaint that the former Omni employees are using their training and El Dorado's institutional knowledge to ACS' financial advantage. ACS Financial misled customers to get them to switch firms, and improperly solicited clients using confidential information, according to the suit.
El Dorado Financial invested heavily in its human resources with one of the defendants earning more than $300,000 a year, Gobeo adds. "The individual defendants did not have experience in the tax relief industry prior to being trained by, and working for, El Dorado.
"In fact, each individual defendant started at El Dorado in an entry level position making approximately $10 an hour."
Matthew Mulligan started Omni Financial, located on 5th Avenue in Vero Beach, in 2002 after hiring a high-profile law firm and filing for Chapter 11 bankruptcy in an attempt to save a previous company that was drowning in tax debt.
According to Omni Financial's website, the firm failed anyway, despite the high-priced lawyers, and Mulligan was personally saddled with more than $250,000 in IRS tax debt.
"To put it simply, I was down and out," he writes online. "Through my own painful experience, I learned more about settling tax debts than most lawyers and CPAs will learn in a lifetime. Therefore, slowly but surely, I built a successful tax representation business."
Mulligan and his attorney declined to comment for this story.  But, their legal complaint describes El Dorado's business model as follows:
Sales representatives contact people in need of assistance, negotiate a fee and then help establish payment plans, penalty abatements and other tax settlement opportunities. "El Dorado's employees are not simple telemarketers or salespeople, but instead have a deep understanding of when to contact the right potential customers and what to say," Gobeo writes.
ACS Financial filed Articles of Organization with the State of Florida in March 2017, according to El Dorado's lawsuit. The move coincided with a termination and several resignations at El Dorado from April through September. Andrew Russell, the company's onetime president and CEO, was among those who jumped ship.
It was then that remaining executives at El Dorado noticed many of its former employees were all headed to one place – a new competitor that had set up shop on 19th Street.
A LinkedIn profile for Russell soon boasted about his top-brass position at ACS Financial, Gobeo writes in the complaint. The lawsuit further alleges the executive sold his shares of El Dorado's holdings back to the firm in bad faith as he prepared to leave the company.
"ACS Financial and Russell are wrongfully and continuously taking El Dorado employees in order to learn El Dorado's processes because this is the only way to obtain El Dorado's knowledge without expending the same resources," Gobeo argues.
"Defendants have taken proprietary and confidential information and solicited active customers from El Dorado, and are using this information to unfairly compete."
Included in the complaint is an affidavit taken from Isabella Caraballo. Caraballo left El Dorado to go to ACS for a larger salary earlier this year, but then returned to her original firm citing disagreements with her new supervisor.
She says in her sworn statement that ACS Financial has "emulated El Dorado's business methods in a number of ways, including forms, letters and procedures."
In October, El Dorado sent notice to the defendants in the lawsuit reminding them of their contractual obligations. It did not work. Employees responded with a form letter asking for more information. Several claimed they had no access to any of El Dorado's proprietary knowledge.
ACS Financial and its representatives have 20 days from the service of the legal summons to respond to the court, but Chris Marshall, the CFO and a co-owner of ACS Financial, said last week he had yet to receive a summons in the case.
The New York native who has teamed up with Russell and others said he would not talk about something he hadn't read, and that he was busy building the new business. He referred all comments to the firm's attorney, Louis Vocelle Jr., with Vocelle & Berg in Vero Beach.
Vocelle called the charges against ACS Financial and its staff "baseless and unfounded."
"They look forward to the opportunity to present the real facts which will disprove these spurious allegations," he said.