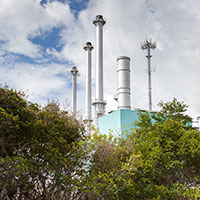 Attorney tells City Council full sale of Vero Electric not going to happen
STORY BY LISA ZAHNER

It was no shock when attorney Tom Cloud told the Vero Beach City Council last week that getting out of the electric business isn't going to happen. After all, Cloud was part of the team that appraised Vero electric for $185 million in 2011 after Florida Power & Light had offered $100 million cash.
Cloud was interviewing for the job of handling the sale of Indian River Shores' 3,000 electric customers to Florida Power & Light – a bid he lost to Nathaniel Doliner of mega-firm Carlton Fields – but since all five members of the current council have gone on record as being for a complete sale of the system, that topic came up. And Cloud, never passing up the opportunity to demonstrate his legal prowess, dug his own proverbial grave.
But even before Cloud opined that the Florida Municipal Power Agency's membership pacts were basically ironclad and would prevent Vero from closing the sale, the Gray Robinson firm he is part of had a few major things going against it, including apparent conflict of interest.
Cloud tried to talk around it and explain that a Chinese firewall separates him from the firm's new hot-shot Tallahassee lobbyist, former Florida House Speaker Dean Cannon, but it fell on deaf ears.
Cannon lobbies for the FMPA's political wing, the Florida Municipal Electric Association, and he has gone after Vero Beach with a vengeance for his client. When legislators tried to hold the FMPA accountable for its wasteful spending, its outrageous executive compensation and its risky hedging practices by bringing the organization under state regulation, Cannon railed against it.
It was this association that led Councilman Lange Sykes to make a motion to thank the Gray Robinson guys for their time, but to hire Carlton Fields even before Cloud had the chance to make his pitch. Mayor Laura Moss voted with councilmen Dick Winger and Tony Young to hear Cloud and his associate out, as long as they'd traveled to Vero for the meeting. But in the end, after hearing Cloud pan the full sale of the city's electric utility, Moss voted with Howle and Sykes.
Another factor that could easily have disqualified Cloud from representing Vero in a full sale is the fact that he serves as contract City Attorney for Ft. Meade, one of Vero's fellow 31 FMPA member cities.
New FMPA President Jacob Williams earlier this month told the Vero council that, to complete a full sale, every member city would need to vote to do so, because every other member city would need to execute a brand new contract with FMPA, sans Vero. That would place Cloud on both sides of the transaction – brokering the deal for Vero and advising his own Ft. Meade City Council about whether or not they should let Vero out of the co-op.
Admitting in public that the FMPA contracts, to which Ft. Meade is a party, are insurmountable, effectively splayed Cloud's hand for all to see on that one.
So rather than hire the lawyer already dead-set against a full sale, Vero plods forward with solid, experienced counsel who said he didn't really know enough about the city's contracts with FMPA to render an immediate opinion. Doliner and his associates were asked to submit terms to the city council for a vote. Councilman Tony Young said up-front that he would vote no to the hire if the quoted hourly rate in the $500 range was still in the paperwork.
Vero is in the market for a transactional attorney with utilities experience because the newly formulated council after the November election cleaned house, firing prior attorney Robert Scheffel "Schef" Wright. Wright was put in charge of Vero's utilities legal team in April 2014, but made no headway on the sale or on finding a way out of the FMPA's contracts.
While details are worked out to engage Doliner and his firm, Mayor Laura Moss is standing in as lead negotiator for the city, accompanying City Manager Jim O'Connor and Electric Utility Director Ted Fletcher to key meetings. Moss said O'Connor and Fletcher have been actively engaging FPL's top technical staff to iron out exactly what would be required to carve the Shores out of Vero's system.
Moss has been hands-on in the effort, too, going on tours of all the facilities in question, looking at the poles and wires and substations involved in the partial sale so when specific items come up in negotiations, she is well-prepared with many of her questions already answered.
FPL is scheduled to bring back a working draft of a formal purchase and sale agreement by the end of March, but FMPA chief Williams says the FMPA bondholders must sign off on the Shores sale, and that effort will take months to make happen.
Vero has not yet decided how it would use the $30 million proceeds from the Shores sale, but one option would be to pay off its $24 million in debt on the electric utility. Calling those bonds is something the city council knows little about, so they've invited Vero's bond attorneys, Marchena and Graham,  to brief them on what can be done, when the bonds can be paid off and what, if any costs or penalties the city might face for defeasing those bonds prior to their full term.
"In order to complete the proposed partial sale of the electric utility to Indian River Shores, the City needs the services of a bond counsel to clarify the requirements of the Series 2003A debt covenants and conditions," O'Connor told the council in a memo.
He said a bond counsel could provide a written opinion on several questions the city needs to find the answers to early on, namely, "Does the partial sale as structured in the FP&L letter of intent or in the final contract violate any of the bond covenants and conditions, and, what are the redemption provisions of the remarketed Series 2003A bonds?"
As part of this wider effort to make sure all Vero's hired guns are truly on Vero's side and not the FMPA's, the city is also looking to hire a new financial advisor.
Craig Dunlap of Dunlap and Associates resigned last month after council members expressed concerns regarding Dunlap's long-time role in advising the FMPA, and his role in the incredibly costly Taylor Swaps debacle, in which the FMPA invested in interest rate "swaps" for hundreds of millions of dollars of funding on a coal plant in Taylor County which was never permitted.
A state audit of the FMPA determined that the use of fuel hedging and financial vehicles like the Taylor Swaps were not consistent with industry standard and were too risky for the co-op to engage in. The board subsequently voted to end the speculative practices.