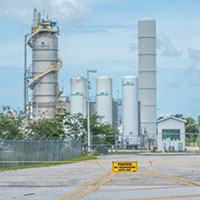 INEOS sale seen moving forward
STORY BY LISA ZAHNER

The CEO of the company trying to purchase the INEOS Bio ethanol plant and hire its employees remained tight-lipped after meetings with federal officials last Thursday, but negotiations seem to be on track for the transaction to go forward.
After returning to West Palm Beach from U.S. Department of Agriculture headquarters in Washington, Alliance BioEnergy CEO Daniel de Liege said he could not comment about the outcome of his D.C. meeting, but sent an email to county officials giving them an update. 
"He said the meetings in D.C. went well, and that he wanted to get together about the mulching contract," County Commissioner Tim Zorc said this week.
When INEOS opened its Vero plant in 2013, it expected to take all the vegetative material the county could produce and use it as raw material for a process that would result in both ethanol and byproduct electricity from its six megawatt generation plant.
INEOS officials, who pitched the concept to county decision-makers nearly a decade ago, speculated that when running at full capacity, the plant could process yard debris and other vegetative material from not just Indian River County but from the entire region.
Plagued with stops and starts and technical difficulties, the plant never came close to the results it had promised county officials in exchange for six-figure jobs grant money and tax credits.
INEOS also obtained a $49 million USDA-backed loan from Arbor Bank to help build the $130 million project.  In November when the bank began the process of calling that loan, Alliance put in an offer to buy the plant at scrap value, de Liege announced earlier this month. Because of the federal backing, the USDA must sign off on the sale.
Alliance is bidding to purchase the plant and equipment only, not the INEOS technology. That technology, which INEOS attempted to use in Vero and at its pilot project in Arkansas, was sold off to a Chinese company that did not want the Vero plant, according to de Liege.
Top county officials were set to sit down with de Liege this week to discuss transferring the yard waste mulching contract from INEOS to Alliance, as de Liege has said he would need Indian River County's grass clippings, hedge trimmings and discarded tree branches for his patented process of fermenting ethanol out of the cellulose that holds all plant material together.
INEOS employees had been mulching residential and commercial yard waste at their own complex, but on Jan. 3, the mulching operation was relocated to the Indian River County Landfill. Solid Waste Director Himanshu Mehta said the shift "went very well."
Alliance BioEnergy has a laboratory in Longwood, Florida, where scientists have been perfecting a mechanically based ethanol process using a ball-bearing apparatus and Kaolinte clay. Should it succeed in purchasing the INEOS plant and converting it to its patented technology by the end of 2017 as hoped, Alliance would need the county's mulched plant material from yard waste to fuel its own ethanol production.