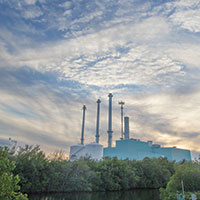 Vero Council puts off hiring attorney for electric sale
STORY BY LISA ZAHNER

The Carlton Fields law firm has presented its terms to the City of Vero Beach for handling the sale of Indian River Shores electric customers to Florida Power & Light for $30 million cash, but a vote on hiring the firm was put off until early February.
City Attorney Wayne Coment received the six-page document outlining terms and fees less than an hour prior to the council's Jan. 17 evening meeting. When he proposed adding the item to the agenda, the council demurred. Mayor Laura Moss said it wasn't proper to vote on the engagement letter not only because the council would be reading it on the fly, but also because "it hasn't been advertised and the public hasn't had a chance to review it."
"We propose a blended rate of $480 per hour for any of our attorneys who work on this transaction. If any paralegal assistance is required, we would bill for such paralegals at their standard rates which generally range at present between $190 and $250 per hour," wrote attorney Nathaniel Doliner, who was interviewed on two separate occasions by the City Council.
Carlton Fields said it would not charge for travel.
Vero's previous attorney for electric matters, Robert Scheffel "Schef" Wright, typically billed the city $500-$700 in travel time and expenses for each occasion he was summoned to appear in Vero, to meet with FPL or with other key parties, in addition to his hourly fees. 
"We have agreed that we will not charge the City for our time or expenses in travelling from our offices to the City or FPL's offices. We have further agreed that we will not charge the City for any time we spend responding to inquiries from the press," said Doliner, who heads up Carlton Fields' Tampa office.
At a prior meeting on Jan. 10, Moss, Vice Mayor Harry Howle and Councilman Lange Sykes voted to strike a deal with Doliner's firm despite the hefty hourly rate, with Sykes asserting "you get what you pay for," and Howle, who found Doliner in the first place, concurring.
On the other side of the fence, Councilmen Dick Winger and Tony Young both expressed serious reservations about the rate, which at the Jan. 10 special call meeting was said to be $495 per hour.
"I have no problem with asking for the engagement letter, but if you come back with $495, I'm going to vote no," Winger said.
Young echoed this, saying that if the city is hiring a firm to execute the partial sale transaction, the alternate firm Gray Robinson could adeptly handle that deal at a much lower cost of $250 per hour.
While the job at hand is to close the Shores deal, the entire council expressed a desire to find a way to sell all of Vero electric to FPL, and Doliner was chosen for his firm's potential to be in the city's corner on that deal.
The majority of the council felt Carlton Fields was less encumbered than Gray Robinson by potential conflicts of interest with the Florida Municipal Power Agency co-op, its political wing, the Florida Municipal Electric Association, and the member cities of both entities.
FPL has said it hopes to come back with a good draft of a formal purchase and sale agreement by the end of March. In the meantime, FPL technical personnel are working with City Manager Jim O'Connor and Electric Utilities Director Ted Fletcher on how to carve the Shores out of Vero's transmission, distribution, metering and billing system.
Since Vero is a party to millions of dollars of debt incurred by the FMPA on behalf of its 31 member cities, FMPA CEO Jacob Williams has said the co-op's bondholders must agree to the Shores sale before it can take place.