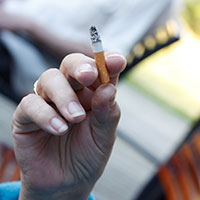 Big Tobacco about to go back on trial once again in Vero
STORY BY BETH WALTON

Some 850 summonses went out for jury duty at the Indian River County Circuit Court last month, nearly double the normal amount, as the courthouse gears up for its third Big Tobacco trial since 2015.
Jury selection in the case that pits Phyllis Jones and family against the R.J. Reynolds Tobacco Company and its successors begins this coming Monday, according to the office of the Indian River County Clerk of the Circuit Court. Island law firm Gould Cooksey Fennell will represent the plaintiffs in the high-stakes civil action.
Gould Cooksey served as co-counsel in a 2015 lawsuit, Gloria Gore versus R.J. Reynolds and Philip Morris, which awarded $2 million in damages to the plaintiffs, who claimed that the cigarette manufacturers knowingly sold deadly products. The tobacco companies have appealed that verdict.
Another Indian River County tobacco jury trial that year, Fannie Collar versus R.J .Reynolds, was decided in favor of Big Tobacco. Gould Cooksey was not involved with that lawsuit.
"These cases are somewhat unique in that they require evidence to be presented from another era," said David Carter, an attorney at the firm. "This is not a case about a smoker who grew up with the knowledge that is available today."
Former Indian River County resident Demos Jones, born in 1931, started smoking in the mid-1940s between the ages of 14-16, according to a pre-trial brief filed by his wife's lawyers. He continued to smoke until he died from lung cancer in 1995.
The South Carolina native was a college graduate and Air Force veteran who fathered four children and worked as a golf professional and restaurateur. For several years he owned and managed the now closed Golden Corral restaurant at the intersection of U.S. 1 and Route 60.
Smoking was entrenched in popular culture in the 1940s, endorsed by film stars, musical entertainers and other celebrities.
Black-and-white images showed soldiers at war with cigarettes in their mouths. Announcers at collegiate sporting events would read advertisements promoting smoking during game breaks.
Gould Cooksey will argue that R.J. Reynolds Tobacco Company's willful misconduct resulted in Jones' wrongful death, according to the pretrial brief. Marketing efforts at the time were intentionally focused on impressionable youth, it says.
Between the 1950s through the year 2000, cigarette manufactures "engaged in a widespread effort" to discredit research suggesting there was link between smoking and cancer and that nicotine was addictive, the brief states. It goes on to say, the companies used "shams" like filters and supposedly low-tar cigarettes "to create doubt about the [health] concerns," in the minds of consumers.
Bryan D. Hatchell, director of communications for Reynolds American Inc., the parent company of R.J. Reynolds Tobacco Company, declined to comment on the case or the historic context of the suit.
Thousands of similar cases have been filed in the state of Florida in the wake of a 2006 state Supreme Court ruling that such lawsuits are legitimate but must be heard individually instead of as a class action. Cases are tried in the county where the smoker was living at the time of his or her death.
Arguments made by plaintiffs and their attorneys in the so-called "Engle progeny" cases are boosted by Florida Supreme Court's findings that smoking causes certain diseases and that tobacco companies hid its dangers.
Cases like the one that will get underway next week at the courthouse on 16th Avenue often result in jury verdicts for the plaintiffs – frequently followed by lengthy appeals on the part of the defendants. Many plaintiffs have died before ever seeing a penny of the amount awarded to them, but because large payouts do eventually result in many instances, law firms like Gould Cooksey often take the cases with a contingency agreement.
Trials typically take two to three weeks, primarily because of the time it takes to select a fair and impartial jury, Carter said. 
Medical and historic researchers are often called as expert witnesses to testify to the history of the tobacco industry and smoking-related illnesses in the United States.