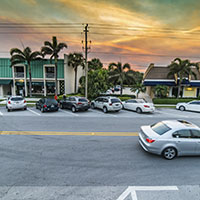 Construction set to begin on Ocean Drive restaurant
STORY BY RAY MCNULTY
Photo: Proposed restaurant site on the west side of Ocean Drive.

The contractor hired to build the proposed restaurant on the west side of Ocean Drive, across the street from Bobby's Restaurant and Lounge, said he has addressed the "minor issues" cited by county officials reviewing the plans and expects to begin construction this month.
Paul Parent of Parent Construction Inc. said his company would submit this week the necessary responses to questions raised in May by a county building division plan examiner and fire inspector.
"We've pretty much worked through all of them," said Parent, who submitted the building plan application on behalf of Miami-based Sony Investment Real Estate Inc. "We're compliant with everything they've requested."
While there still is no confirmation who will occupy the new restaurant, both letters Parent was responding to refer to the "Tides Restaurant" in the job description.  Leanne Kelleher, The Tides' owner and chef, did not respond to a message left at her current restaurant last Saturday.
Parent said he will begin construction as soon as he receives a building permit, and he expects the project to take "five or six months" to complete.
"If I had the permit, we would've started three weeks ago," he said. "But we had to wait for the city to go through its process."
The Vero Beach Planning & Zoning Board, acting on city Planning Director Tim McGarry's recommendation, voted 4-1 in March to approve the construction of the 2,685-square-foot, 143-seat restaurant, despite objections from members of the public.
Two weeks later, local restaurateur Bobby McCarthy – owner of Bobby's– appealed the board's decision to the City Council.
McCarthy and other Ocean Drive merchants argued that the plans for the new restaurant didn't provide enough parking spaces and, as a result, would make the Central Beach parking shortage even more challenging.
Last month, the City Council also voted 4-1 to approve the project, denying McCarthy's appeal after more than two hours of public testimony and debate.
Getting the building permit is the builder's final hurdle, but Parent first must satisfy county Plan Examiner Ray Mossman and Fire Inspector Richard Marini.
In his letter to Parent, Mossman raised questions about the exterior wall on the south side of the proposed building, wood trusses and sheathing, excavation, a property line, grease interceptors and roof drainage.
Marini's letter also mentioned the exterior wall, sought verification regarding the use of wood in construction and requested the manufacturer's specifications for the proposed fire spray.
Tides'owner Kelleher said in late May that she had expressed interest in moving her popular restaurant from its Cardinal Drive location into the planned new building on Ocean Drive, and that she was still involved in discussions with property owner Sony Investments.
But she said she had not yet made a decision.
"I haven't decided anything yet," Kelleher said then. "They're going through their process and doing what they need to do. When they're done and everything is set, they'll tell me. Then I'll decide what I'm going to do."
Asked whether he knew if Kelleher had reached a decision, Parent said he wasn't involved in that part of the deal.
As for the controversy sparked by news of the project, Parent said those who voiced opposition to the restaurant "will be happy with the building when we get it done."