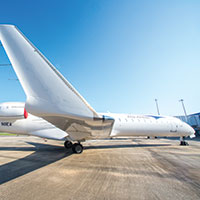 Elite Airways' new Vero to Asheville flights promising based on first month of operation
STORY BY RAY MCNULTY

The early response to Elite Airways' new, non-stop commercial flights connecting Vero Beach and Asheville, N.C., has been promising, airline and city officials said.
The 90-minute flights, which began May 25, are averaging 20 to 25 passengers per one-way trip on Elite's 50-seat jets.
According to Vero Beach Airport Director Eric Menger, 204 passengers flew from Vero Beach to Asheville in June – the first full month of service, which is offered only on Thursdays and Sundays – and 202 flew from Asheville to Vero Beach.
"The numbers thus far are good, not great, but they're improving," Menger said. "June is usually a slow month, and the numbers seem to be picking up in July. It looks to me like every flight is profitable, but we need the numbers to increase.
"I think we'll see that happen as the word gets out."
In March, Elite President John Pearsall visited the Vero Beach Regional Airport and announced the airline would offer non-stop service to and from Asheville from late May through early November.
He said Asheville was the most-requested destination from travelers in Vero Beach – Elite's No. 1 market, thanks to its popular and profitable service to and from Newark, N.J. – and that the new flights would be "ideal for vacationers" headed in either direction.
Last week, Pearsall said the route was "performing as we expected" and that Elite is "pleased with the numbers."
Asheville is located in North Carolina's Blue Ridge Mountains and is known for a vibrant arts scene, national parks, hiking trails and historic architecture.
Besides vacationers flying up to stay at hotels, Menger said many Vero Beach residents either own summer homes in that area or are thinking about buying one.
"We're getting a terrific response, both face-to-face and on social media, from the people who said they were thrilled with the service," Menger said. "We just need more people to try it."
Pearsall said Elite would consider extending service between Vero Beach and Asheville into the winter months if the demand is there.
The flights from Vero Beach depart at 7:15 a.m. The return flights depart Asheville at 9:30 a.m. Fares start at $179 each way.
In addition to free parking at the Vero Beach airport, there is no charge for passengers' first checked bag up to 50 pounds. Travelers also receive free onboard snacks and beverages.