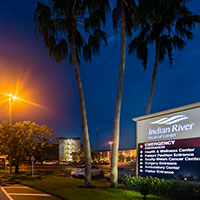 Hospital told time has come to find partner
STORY BY MICHELLE GENZ

The consultants looking at the finances of Indian River Medical Center didn't make it to the final slide in their presentation. The minute the collaborative committee charged with stabilizing the hospital's financial future saw a graph that had IRMC's credit rating dipping into junk bond territory, they cut to the chase:  Time to find a partner with deep pockets.
Stroudwater Associates, the Maine-based healthcare consultancy hired after the hospital announced in January it had lost $4 million in the first quarter of its fiscal year, portrayed the status quo as nearly hopeless.
Without disputing IRMC's claims that the hospital is in sound financial shape today, Stroudwater's analysis showed disaster just around the corner. Even with the consultants' $3.5 million in tweaks to revenue projections, revenues are "insufficient to address IRMC's strategic and investment needs."
The junk rating would come from adding a new bed tower and power plant, a move consultants say would mean "a significant increase" in the hospital's financial risk profile.
And no matter how much magic may be worked by IRMC's strong fundraising foundation, Stroudwater believes "significant philanthropy is inadequate to reduce the heightened strategic, competitive and operating risks associated with the gap between IRMC's resources and needs."
Minutes after the term "junk" was uttered, the committee moved to draft a resolution to court a larger hospital system as partner. The terms of that relationship still need to be determined.
Because the committee decided to stop short of an outright sale, the public – which owns the hospital – will not be voting on the partnership, though public input is hoped for, committee members stressed.
Chief among the hospital's weaknesses, Stroudwater said, is its aging physical plant. While philanthropy has paid for two impressive tertiary care centers, the medical center's inpatient building is now 40 years old, and will need a $170 million overhaul within the next five years. The heavy borrowing required to finance that project would throw the hospital's credit rating into non-investment grade, or junk, status said Jeff Sommer, a Stroudwater director.
Currently hospital debt is rated BBB, the minimum acceptable rating, committee members say. The next lowest in the investment grade category is BBB-minus, and beneath that, junk grade.
"I think the biggest risk of dropping below triple-B is philanthropy," said Tony Woodruff, who chairs the board of IRMC's fundraising wing, the IRMC Foundation. "If you're junk, nobody's going to give you anything."
Barring philanthropy, the $170 million project would fall on taxpayer shoulders, committee members said. But asking the public to get behind a municipal bond when the hospital is on shaky financial ground is "not a good proposition," said Allen Jones, the Hospital District board member most involved in finance.
"Having a 40-year-old chassis is something that will become a drag on the organization," Sommer said. "And that's not the only investment you face. You're in a competitive environment facing multi-billion dollar companies that can make these investments over time."
Adding to concerns, consultants see the hospital's current $150 million in Medicare revenue falling $1.5 million in fiscal year 2017 and declining more than $2 million the year after.
Credit rating agency Standard & Poor's predicts the not-for-profit health care sector has peaked after a substantial boost by Obamacare enrollments, says Stroudwater. Facing that flatline in patient numbers, larger health systems have a more promising prognosis than small hospitals like IRMC.
Currently, Vero's only hospital is managed by a separate company, IRMH Inc., of which Jeff Susi is CEO. That company leases the hospital from the Hospital District, which by decree of the legislature serves as the taxpayers' representative. 
IRMH has been aggressively seeking to improve the hospital's finances after the dismal first quarter. They have negotiated higher reimbursement rates from commercial insurers like Blue Cross Blue Shield, and that is expected to bring in an extra $11 million a year.
Stroudwater believes the hospital could squeeze another $3 million out of operations improvements, including things like more efficient coding in the billing procedures. But that would be more than absorbed by annual pay raises alone, which amount to $4 million or so.
Between now and 2023, IRMC needs $15 million to improve its outdated electronic records system, and another $50 million for upgrades and repairs to equipment and other strategic investments. That is on top of the usual capital improvements paid for each year with the money the hospital takes in from day-to-day operations.
Even if IRMC could chug along with its old building through 2023, and just borrow enough to update the basics, Stroudwater predicts the hospital will drop into the junk bond rating category by the end of fiscal year 2018, and things get worse from there – even factoring in a rosy revenue increase of 238 percent.
Last fall, an optimistic IRMC announced plans to build a new inpatient bed tower and had preliminary drawings made by an architect. Those plans were quietly shelved after the hospital's dismal first quarter. The hospital's outdated patient rooms will look doubly dreary when Sebastian River Medical Center completes its new three-story bed tower next year.
That hospital, along with two more in neighboring Brevard County, was just bought by Steward Health Care, an innovative chain owned by the private equity firm Cerberus Capital Management. Since the Sebastian purchase, the Boston-based hospital system has moved to acquire another healthcare chain, which if approved would add 17 hospitals and double Steward's size to the largest privately-held for-profit hospital chain in the country. Anticipated annual revenues are $8 billion.
HCA, the parent company of Lawnwood, the nearest hospital south of Vero, takes in $41 billion a year.
By comparison, IRMC's annual revenue is $250 million.
That comparison, when Stroudwater projected it for the collaborative committee, prompted the chairman of IRMC's board of directors, Wayne Hockmeyer, to say it made him feel "like Custer at the battle of Little Bighorn."
Sommer, his presentation interrupted, stood in silence as he watched his clients quickly reach accord to seek a partner.
Assuming the IRMC board of directors votes to move on to a partner-seeking phase, Stroudwater will become one of three consultancies in the running to play matchmaker in the marriage that would keep IRMC in the Vero family.
The committee made clear it hopes not to have to resort to a sale. It also spelled out a desire to focus on not-for-profit partners, though for-profit systems are not being ruled out.
The next step is to issue a request for proposals. Whatever offers emerge from interested healthcare systems will be reviewed by the Phase 2 consultant.
The proposals may vary widely, from the branding affiliation and knowledge sharing currently offered by Duke University to IRMC's heart and cancer centers, to full-blown investment in the Vero hospital. The process is expected to take 12 to 18 months, committee members estimated.
In the hopes of hearing from the community, the collaborative community is holding two public forums at its offices near the hospital. The first is Thursday, July 6 at 6 p.m. The second is Wednesday July 12 at 3 p.m. The Hospital District office is at 3730 Seventh Terrace, Suite 204 B.