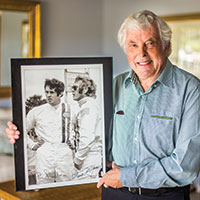 Island racing legend Redman inducted into British Hall of Fame
STORY BY RAY MCNULTY
Photo: Moorings resident and racing legend Brian Redman.

Even at age 80, after a lifetime of driving competitively at white-knuckle speeds, Moorings resident Brian Redman still gets a thrill of getting behind the wheel of a race car.
That's why he left town Monday, returning to his native England for the second time this month.
Three weeks ago – 15 years after his induction into the Motorsports Hall of Fame of America, six years after entering the International Motorsports Hall of Fame – Redman was recognized by Britain's Motor Sport Magazine Hall of Fame.
At the ceremony, which was held June 7 at the Royal Automobile Club in Surrey, the Lancashire County native eagerly embraced the opportunity to drive a Ford GT 40 sports car along Captain's Drive to the Woodcote Park clubhouse.
"That's the car I drove and won with in 1968," Redman said Sunday from his condominium. "It was a very nice affair, and being inducted into another Hall of Fame meant a lot to me. At this relatively advanced age, I wasn't expecting any more racing honors.
"To get inducted with people like (race-team owner) Roger Penske and (former Formula One and Indy Car champion driver) Nigel Mansell was special," he added. "And it was fun to get back into that car."
This week, Redman will be back in England to participate in the Goodwood Festival of Speed – an annual summer event featuring historic motor-racing vehicles on the grounds of a West Sussex estate.
This time, he'll be driving a 1958 Vanwall.
"I still race three or four times a year, but it's not really competitive," Redman said. "Now, it's more like driving in a race than actually racing. I'm certainly not racing like I used to."
Competing at the highest levels of his sport for the better part of 30 years, Redman won more than two dozen international races, driving for teams that won the 24 Hours of Daytona three times and the 12 Hours of Sebring twice.
He won three consecutive Sports Car Club of America (SCCA) Formula 5000 Championships, finishing ahead of American legends Mario Andretti, the runner-up in 1974-75, and Al Unser Sr., who was second in 1976, in the open-wheel, single-seat race-car circuit.
He won the 1981 International Motor Sports Association GT championship.
He also competed in 15 Formula One World Championship Grand Prix events, once finishing as high as third in a 1968 race in Spain, but preferred – and enjoyed his greatest success – driving sports cars.
In all, he drove for more than a dozen car manufacturers' teams, including Ferrari, Porsche, BMW, Jaguar and Aston Martin. It was in a Porsche 917, in the 1969 Le Mans race, that he drove a personal-record 230 mph along a 4-mile straightaway.
Yet, he remained one of the sport's best-kept secrets.
Of Redman's Hall of Fame induction this month, the long-established magazine wrote: "One of the underrated greats for many, but not for Motor Sport readers who know all about the humble Lancastrian's formidable talent. He might not have won Le Mans, but he won every other sports car race that mattered."
For the record: Redman drove for Porsche teams that twice finished first in the IMSA class of the 24 Hours of Le Mans, but they were fifth overall both times.
Redman's driving in the 1970 24 Hours of Le Mans was included in the race footage used in the making of the 1971 movie "Le Mans," which featured Steve McQueen.
"They had cars on the track equipped with cameras," Redman recalled.
More of his recollections can be found in his book – "Daring Drivers, Deadly Tracks: A racer's memoir of a dangerous decade" (1965-1975) – which was published last year and was named the Royal Automobile Club's 2016 Motoring Book of the Year.
"The book has done very well," said Redman, who moved to Vero Beach 18 years ago, residing first in Vero Isles before settling at The Moorings. "It's now in its fourth printing and has sold more than 7,000 copies."
After retiring from professional racing in 1989, the birth of vintage-car racing offered Redman the chance to stay involved in the sport. So he jumped back into the driver's seat.
It was then that he discovered a market for car collectors who owned vintage and modern high-performance models and wanted places to drive them without necessarily racing them.
In 1991, Redman created the Targa Sixty-Six car club, which – for a price – allowed drivers to drive their high-performance vehicles on actual racetracks, under controlled conditions and without fear of being bumped. The weekend events included a coat-and-tie dinner and driving lessons.
"We would do it three or four times a year, and it was always very social," Redman said. "Now, we do it once a year, in February, and close to home at Palm Beach International Raceway."
He said the event usually draws 50 drivers, including some who bring more than one car, and about 250 people.
"I've been very lucky," said Redman, who 40 years ago survived a life-threatening wreck in a race in Mont-Tremblant, Canada, where – in addition to suffering a fractured vertebra in his neck, breaking his leg, dislocating his shoulder and cracking his breastbone and ribs – his heart briefly stopped.
"After I retired, I was able to remain connected to racing and live a similar life to when I was driving," he added. "Even now, going to these different events, it's great to get together with the guys I competed against.
"And I still get to drive the cars."