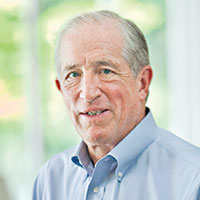 Winger bid to take lead in electric talks short-circuited
STORY BY LISA ZAHNER
Photo: Councilman Dick Winger

With Vero headed toward a lawsuit with the Orlando Utilities Commission over a contract dispute that threatens to wreck the best financial deal the city has ever negotiated to sell Vero electric, a controversial plan put forth by Councilman Dick Winger to haggle with Florida Power & Light for more money was shot down last week without even a vote.
Turns out Winger's proposal "to designate a member of Council to be responsible as the point person to negotiate  and keep Council informed and gain Council approval," would have violated Florida's open meeting or "Sunshine" laws, raising questions about where and from whom Winger gets his half-baked legal advice.
Whoever advised him about his ill-fated proposal is either ignorant of the law, or knows the law and wants to bog the sale down in lengthy and expensive negotiations – or possibly a Sunshine law violation investigation. Either possibility is worrisome.
Fortunately for taxpayers and ratepayers, the city's legal team swiftly ruled out Winger's plan, pointing out that a council designate would constitute a "board of one" which would be subject to Florida's Sunshine laws the same as the City Council or any appointed board or commission.
The idea is that an elected or appointed body covered by the open meeting law cannot appoint one person for the purposes of circumventing such law in order to govern in private. If Winger's idea was approved, negotiating sessions would have to be formally and publicly announced, held in public with the public permitted to attend.
Despite not getting a vote, Winger's scheme did not go unanswered last week, with Mayor Laura Moss and Vice Mayor Harry Howle both taking serious issue over what they viewed as an effort to derail the sale totally.
"I wonder if Mrs. (City Clerk Tammy) Bursick could perhaps create a whole other agenda and then we'll have the City Council agenda and then we'll have Dick Winger's hidden agenda separate, so when he wants to do more things to delay and deflect and deny and stop and slow down the process, we can put it on Dick Winger's hidden agenda," Howle said.
Howle read from the legal opinion provided by the Carlton Fields law firm, which represents Vero in the FPL sale. "It would be much more time-consuming and costly for the city negotiations to be held in a public forum; it would also alter negotiating dynamics," Howle said, turning to Winger. "But you knew that already.
"These talking points really make me wonder why it is you're asking for this, aside from the fact that you want to slow things down, and I think I have a reason," Howle said. "Beneath all of your rhetoric, you really don't want the full sale. You want to do everything you can to slow it down or stop it."
City Manager Jim O'Connor has been working directly with transactional attorney Nat Doliner of Carlton Fields and FPL's attorneys on the sale. Moss has served as the council's unofficial, behind-the-scenes liaison with FPL and the FMPA co-op since she was elected in November. Her role has provoked praise from supporters of the sale and anger from critics complaining about lack of transparency and Moss' efforts to "gag" the council regarding what she describes as delicate negotiations.
Vero's lawyers have cautioned city officials that everything they say about the sale, and the $50 million exit penalty contract dispute with Orlando Utilities Commission, can be used against them in court.
Nevertheless, Winger asked that the council designate one council member to negotiate the deal, calling the $185 million offer on the table "a good starting point" and wielding old fear tactics over losing critical city services after the Vero electric cash cow is gone.
"What I see is a process of accepting a letter of intent without trying to get the money that our ratepayers, our voters and our taxpayers are entitled to," Winger said at the June 20 council meeting, adding that he feels he's been kept in the dark since mid-May on what's going on behind closed doors with FPL and the city's lawyers.
"We must negotiate a higher sales price based upon the greater value of the utility as compared to 2012 and 2014. Prior city councils have made the system more valuable," Winger said, making it sound like Vero had greatly enhanced its aging electric system.
In fact, while Vero minimized risk and future capital costs by shuttering the Big Blue dinosaur on the river, the balance of the millions spent in recent years was basic maintenance of transmission and distribution infrastructure – work that had been delayed while the 2011 sale attempt languished.
Despite its shoddy legal premise and utter failure to gain traction, Winger's proposal dredged up the controversy over his source of legal counsel.
The points in Winger's memo labeled 3a through 3j under the heading "Authority to Negotiate" appear to be drafted by an attorney, then manually copied and pasted into Winger's document. In fact, Winger did not even bother to change the font on the pasted passages from Times New Roman 12-point type to Arial 10.5-point type to match the body of his memo.
When questioned in the past, Winger has acknowledged that he seeks outside legal advice on tricky city maneuvers, and has admitted consulting with retired attorney George Christopher on electric matters.
He referred to Christopher – a longtime Riomar resident, controversial figure in local politics, and one of the founders of the Indian River Neighborhood Association – as a "brilliant attorney."
In last fall's election, the IRNA's political action committee supported candidates who opposed the three sitting council members now pushing to get Vero out of the electric business. The IRNA also funded a special elections advertising mailer disguised as a news publication, resulting in at least one complaint being filed with the Florida Department of State alleging elections law and campaign finance violations.
Moss is no friend of the IRNA. To illustrate Winger's allegiance to anti-sale factions, Moss during the June 20 meeting played a video clip of Winger reading a letter on the dais during an Aug. 18, 2015, council meeting, and then read portions of a Vero Beach 32963 investigation revealing that Christopher had written and emailed talking points to Winger and that Winger read Christopher's words as his own during a public meeting. At the time, then Councilwoman Pilar Turner, seated next to Winger, saw the email printout showing Christopher as the author.
"It is a matter of public record, as you just saw, that Mr. Winger speaks for special interests, not for the community. It is a matter of public record that Mr. Winger voted against the full sale last time around on Feb. 19, 2013, and then conveniently claimed to support it when he ran for re-election that November, after voting against it, which to me is beyond the pale. It is a matter of public record that Mr. Winger voted against the full sale this time around, on May 16, 2017 – the only one of us to do so."
"This is just another clear example of Councilman Winger trying to stall and stop this sale," Howle said of what went on in the meeting. "Mayor Moss and Nat Doliner have done a remarkable job representing our best interests. The [proposed sale] terms are beyond fair, and anyone who refutes that has ulterior motives.
"I don't know why he (Winger) insists on paying more money for our electric, but I suspect it's a belief in his flawed premise that government can compete with the private sector and that the general fund transfer is 'profit.' It's not profit; it's excess ratepayer funds being used to subsidize Vero's bloated budget," Howle said.