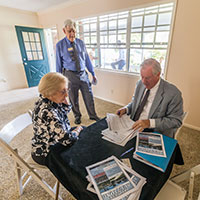 After big auction sale, new estate up for bid
STORY BY STEVEN M. THOMAS

The sale at auction last week of an oceanfront estate in Indian River Shores for just over $10 million has now motivated the owner of a $12.9 million home on the southern stretch of Vero's barrier island to try to sell his beachfront property the same way, according to Premier Estate Properties broker associate Clark French.
"After the successful sale last week of 10 Ocean Lane, we now have a new seller offering another significant oceanfront estate for auction immediately with no reserve," French said. "The property located at 2470 S. A1A in the Vero Beach Estate Section is a spectacular Barbados-inspired estate with a bright and open transitional beach house design."
Premier and Concierge Auctions, the company that conducted last week's sale, will began advertising and marketing the property immediately for an auction on Friday, April 28.
There were actually two houses – separated by six miles and millions of dollars in value – sold at auction on the island last week.  While the multimillion dollar sale at 10 Ocean Lane dwarfed the sale of a home in Central Beach for $360,000, both transactions have interesting stories behind them.
The larger house came with 6 bedrooms, 8.5 bathrooms, a gatehouse, a massive carved limestone fireplace, a deluxe swimming pool, a movie theater and 2.6 acres of prime oceanfront land, including a 1.3-acre landscaped lot next to the lot the house sits on.
Designed by Gregory Anderson, P.A. and built by CAL Builders in 2009, the 13,500-square-foot Santa Barbara-style estate home had been listed by French and his partner Cindy O'Dare before its sale by Concierge for $9 million. With a 12-percent buyer's premium tacked on, the total cost to the buyer amounted to $10,080,000 when the hammer came down at 5 p.m. on Thursday afternoon after a 45-minute high-stakes bidding process. The house had been listed recently at $13 million.
The second home – a 3-bedroom, 2.5-bath, 2,550-square-foot ranch house built in 1953 on a 0.31-acre lot at 716 Conn Way in Central Beach – was auctioned off by Ron Rennick of Rennick Auctions on Saturday morning. With a 10-percent buyer's premium added on to compensate the auctioneer and listing agent, the total paid by the buyer was right around $400,000, $139,000 less than the most recent asking price.
The two auctions were similar in some ways – both offered properties close enough to the ocean to hear the surf and both were absolute auctions, meaning the homes would sell to highest bidder, no matter what the price. Both sales were "as is" with no contingencies, and both buyers got good deals, have 30 days to close and had to put down 10-percent, non-refundable deposits at the time of sale.
But there were more differences. The buyer at 716 Conn Way, Connie Wellman, is a Vero resident who did not mind being identified – she appeared in person to make the winning bid, leaning against the living room wall by the front door with her son beside her – while the buyer at 10 Ocean was from out of state, bid through an intermediary and preferred to remain anonymous, according to French.
Bidding on Conn Way was a casual affair – anyone could walk into the living room and make an offer – while the bid process at the big house was highly structured.
Concierge Auctions project manager Katie Lawless says all 14 bidders at 10 Ocean had to sign off on a set of terms and conditions and provide a $100,000 deposit and bank letter certifying sufficient funds to complete the purchase.
"It was one of the strongest groups of buyers we have ever seen at a Concierge auction," said Lawless, who attributed the turnout to the quality of the property, the increased prominence and appeal of Vero Beach, and a growing acceptance of the auction process as a good way to move non-distressed luxury real estate. "All 14 buyers were highly qualified and deeply interested in owning the property."
A majority of buyers were from out of state, according to French, and a number of others were from South Florida, looking to trade in a Miami or Palm Beach lifestyle for Vero's more relaxed way of living.
Meanwhile, on Conn Way, promotion for the auction and most of the would-be buyers who showed up were local, and only a handful of people bid.
The Conn Way auction was quick. It started at 11 a.m. and was wrapped up by a quarter after; the auction at 10 Ocean lasted three times as long and had three phases.
"There was an initial auction for the landscaped lot that garnered a high bid of $2.1 million," French said. "We put a pin in that, and then the house was auctioned for $6.6 million and we put a pin in that. A third auction of the combined properties started at $8.7 million and went up to $9 million."
About half of the buyers were onsite, raising their own paddles, while the others followed along by phone, bidding through intermediaries who raised paddles for them.
"It was an exciting auction with numbers moving very fast at some points," said Lawless of the three-part process.
William and Janice Sangers were the sellers at 10 Ocean. They bought the house on its 1.3-acre oceanfront lot new in 2009 for $7,675,000. The next year they purchased the adjoining 1.3-acre lot on the south side of their property for $2,950,000 and sank $800,000 in landscaping and illumination. They also spent more than a million on furnishings, and interior design is by Marc-Michaels Interior Design, bringing their total investment to at least $12.5 million.
Based on that figure, the Sangers took a $3.5-million loss on the property, but Lawless says she believes they are happy with the outcome. The house had been on the market for more than a year and the auction allowed them to complete the sale on a date certain, walk away with $9 million in cash and turn their attention to other things.
And it is not like the couple is homeless. After putting their Indian River Shores house on the market, they purchased an even more impressive oceanfront property in the Estate Section on South Beach, closing that sale for $17 million in October 2015.
The seller on Conn Way, may have been slightly disappointed in the outcome of his sale – a prior auction of the house in January garnered a $503,000 winning bid, but the buyer ran into personal difficulties and was unable to close the sale – but he got similar benefits, liquefying an asset he had owned for decades for many times the price he paid for it in an earlier era of island real estate. And the $360,000 purchase price came on top of a $50,000 deposit forfeited by the buyer in the January auction.
"Sellers like auctions because they are in control," Lawless says. "They are not sitting around waiting for an offer that may or may not come. There is a date certain for the sale and no contingencies to worry about. It is a quick close and they walk away with cash."
Buyers like auctions because of the chance to get a desirable property below prevailing market value, which probably happened in both auctions last week. They can name their own price and the process is transparent. In a traditional sale, the buyer doesn't know how much to offer or counter to get the deal, but in an auction they know exactly where the process stands and can bid just slightly over the previous offer.
French agrees with Lawless that home auctions are becoming more acceptable to both buyers and sellers. "The stigma is gone," he says. "For years, auctions have been the preferred way to sell fine art, classic cars and other high-end goods, and, increasingly, they are being seen as a smart way to sell luxury real estate."
That seems to be the opinion of the seller at 2470 S. A1A whose home will go on the block at the end of April.
Built by Beachlen Development in 2013 to the highest luxury standards on a 1.6-acre lot with 155 linear feet of ocean frontage, the house has eight bedroom suites, a guesthouse, 5-car garage and huge resort-style swimming pool. 
When built, it was listed for $17.9 million. The current owner purchased it for $9.3 million in May 2015. It is currently listed at $12.9 million and will be sold at an absolute auction with no reserve.