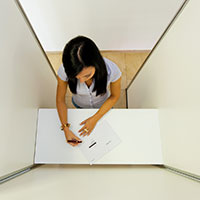 Local voters to get yet another voting system
STORY BY LISA ZAHNER

When Vero Beach residents vote in this fall's municipal election, it will be on paper ballots using a fill-in-the-bubble system instead of connecting the dots by a line.
Supervisor of Elections Leslie Swan was set to ask the Indian River Board of County Commissioners on Tuesday to approve a contract to purchase a new, state-law compliant optical-scanner voting and tabulation system with funds that have been set aside over the past three years.
"I hope to have them in May," Swan said Monday, allowing her time to fully test out the equipment, to order the most practical writing implements to fill out the ballots, and finally to conduct public outreach to familiarize the voters with the system before the November municipal elections.
The system will be used by all county voters in the 2018 primaries and general election.
Swan explained the threefold reasoning behind the purchase. "Indian River County's voting system has reached its end of life. The county's tabulation system is over 15 years old," she said.
The vendor that supports the software, Sequoia Voting Systems, is out of business and the machines do not comply with changes in state law to protect against voter fraud and hacking, which require a "marksense ballot" by 2020.
"In 2008 legislation was passed requiring voters to cast their vote using a paper ballot," Swan said. "At that time, Indian River County was using touchscreen voting machines. The county purchased optical scan units for paper-ballot voting and used the AVC Edge (touchscreen) for voters with disabilities."
To save money, the county cancelled the annual maintenance contract on the few touchscreen machines remaining in service. The new system for everyone would be similar to a standardized test, as voters would fill in an oval next to their selected candidate or option with a provided pen or pencil.
"Fifteen years ago, ease of use was the deciding factor in purchasing a voting system; today, security is the overriding factor," Swan said, adding that voting equipment produced after 2008 is equipped with "advanced encryption software."
The county itself, not the Supervisor of Elections, owns the voting equipment. That's why the Board of County Commissioners authorized staff to start putting money away in anticipation of the purchase, which was estimated to cost $1.4 million. However, after putting it out for bid, Swan was able to bring a proposal costing $944,000 – nearly a half-million under budget – back to the Board this week.
The purchase, presuming Commissioners go with the selection committee recommendation, would get the county on board with a major vendor, ES&S, that already provides voting equipment and support to 42 of Florida's 67 counties.