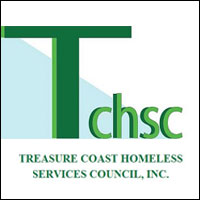 New shelter set to open its doors for homeless single women April 1
STORY BY KATHLEEN SLOAN

Sixteen single women facing homelessness will be housed and helped until they can get back on their feet, thanks to fast, effective work by volunteers and non-profit organization workers and the generosity of local donors.
The new facility will begin operation April 1.
The women will live at a quadplex purchased by churches, a Jewish temple, private donors and the Treasure Coast Homeless Services Council.
"It came together in 90 days," Treasure Coast Homeless Services Council Executive Director Louise Hubbard said.
"There was no contention about who would be served. The faith-based community saw a need, recognized what needed to be done and made it happen in three months," Hubbard said. "It was amazing."
Other shelters in the area, such as Hope for Families Center and the Samaritan Center, take homeless families, but not single women.
The coordinator of the effort was the Sand & Land Real Estate Team at the barrier island brokerage Berkshire Hathaway Home Services, comprised of Beth Livers, Maria Caldarone and Ashley Harris.
They did the fundraising, found the property, and held a thank-you dinner for the contributors with the restaurant, Avanzare, also donating the meal.
The property cost $415,300 and 23 donations – including $100,000 from the Treasure Coast Homeless Services Council – amounted to $470,800.  The extra money went for paint, air conditioners  and other upgrades to the 2001 property, "which is in pretty good shape," Caldarone said.
The Treasure Coast Homeless Services Council holds title to the facility, bringing the number of residential properties it owns to 32, all of which serve low-income people.
Hubbard estimates the yearly cost to operate and maintain the quadplex will be about $20,000. "I don't know right now how ongoing costs will be funded. We are continually applying for federal and state funds," she said. "We'll see."
The purchase of the quadplex will save money in the long run. Churches were donating money to buy hotel rooms for single women who weren't eligible for other shelters.
"Only one hotel will take them," Hubbard said. "It's $400 a week, $1,200 a month and it's way west, far from services and jobs. Transporting them back and forth is a problem."
The quadplex is in walking distance to churches, food banks, stores and social services, making the women closer to resources and potential jobs. The address is not being made public because of concern for residents' safety.
The homeless problem in Indian River County is increasing. "The rents and utility costs in this area require a minimum-wage worker have more than two full-time jobs," Livers said. "One crisis can easily result in homelessness."
"Most homeless people, 85 percent, are the working poor," Hubbard said. "They're not doing drugs, they're not mentally ill. These are the single women we intend to house at the quadplex until they can find long-term affordable housing."