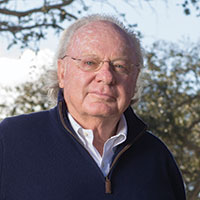 Vero Beach Hotel developer Heaton facing felony charges
STORY BY LISA ZAHNER

The developer and owner of the island's finest hotel, 73-year-old George Heaton, is facing a 30-year federal prison sentence plus millions in fines and restitution payments if convicted on nine felony charges that he, his accountant and his title agent made false statements on mortgage loan applications for buyers of condominium units at his Vero Beach Hotel & Spa.
Court documents allege those deceptive documents led four banks to fund loans of more than $20 million "based upon materially false and fraudulent pretenses, representations, promises and material omissions," and that, as the seller of the condos, Heaton made millions in profits from those transactions.
A U.S. Department of Justice statement said that, from 2006 through 2009, the defendants "conspired to perpetrate a complex mortgage fraud scheme against various FDIC-insured lenders by concealing incentives offered and paid to buyers of condominium units at the Vero Beach Hotel and Club," as the hotel was originally known.
Heaton has pleaded not guilty and asked for a jury trial. His defense attorney denies that any wrongdoing occurred.
The alleged fraud involved "cash-to-close" money Heaton provided buyers to cover down payments and closing costs to help make the condos more attractive in a skeptical Vero Beach market that widely viewed the units as overpriced, even before the real estate downturn.
The ultimate source of that incentive money, however, was omitted from loan application and federal Housing and Urban Development closing statement forms, so it appeared on the forms that buyers were putting up large down payments themselves, when charging documents say they were only putting the money up temporarily, and later getting it back from Heaton in a separate refund transaction.
Prosecutors say Oculina Bank, JP Morgan Chase, Orion (now Iberia) Bank and Floridian Community Bank relied upon that information for loan decisions.
Court documents say Heaton refunded the down payments and other costs after closing, "transferring funds used for buyers' incentives through a bank account of a Palm Beach County law firm in order to conceal and attempt to conceal the source of the funds." The refunds were sometimes characterized as payments for "lease-back or profit participation agreements."
In one cited transaction in August 2008, the incentive money allegedly transferred between various accounts to be refunded to a buyer totaled $250,000 for one condo unit. This would have made the inflated sales price of the condo that the bank used in making a mortgage decision more attractive to the buyer.
The 18-page indictment handed down by the federal grand jury cites one count of conspiracy to commit bank fraud and eight counts of bank fraud. Each felony carries a maximum penalty of 30 years of prison and $1 million fine, plus five years of probation.
Heaton turned himself over to federal authorities in West Palm Beach on March 1 after a warrant was issued for his arrest on Feb. 28.
According to court documents, Heaton posted $100,000 bond and surrendered his passport as part of the terms of his release awaiting trial. A two-week trial was scheduled to begin this coming Monday, but a case status update filed on March 16 states that this Wednesday, all parties were to request "a continuance to sometime in late 2017, due to the complexity of the case.
"The discovery in this case is voluminous and consists of mortgage loan files, real estate closing files, bank records and emails," the report said.
In late February, Heaton and his former accountant, 54-year-old Deborah Dentry Baggett now of Tennessee, were added to a September 2016 indictment of 59-year-old Central Beach resident Eric Granitur, who during the years in question, handled title work and closings for Heaton Companies, the owner- operator of the hotel.
Court documents say Granitur was an attorney and an escrow agent who operated Live Oak Title LLC. Granitur is on file with the State of Florida as having a null and void CPA license and an inactive real estate license. Baggett operated a company called Accountability Plus, which assisted buyers with the financing paperwork on the Vero Beach Hotel condos, and she owns several of the units now listed for resale under the name Vero 8 LLC, according to county property records.
The three-acre Vero Beach Hotel and Club facility opened in 2008 on the site of what had been a Doubletree hotel and a motel next door, Aquarius North.
A major construction project that went on several years saw the former Doubletree totally renovated and a new wing rise in the place of Aquarius North, giving the new hotel a total of 113 guest units – many of them one-bedroom and two-bedroom suites – as well as two restaurants, Cobalt and poolside Heaton's Reef, and the White Orchid Spa.
Even before construction was begun, Heaton began marketing the condo units, which could both be rented out by the hotel operator to hotel guests and used by the owner to put up out-of-town clients or visitors.  While some of the units had an asking price of more than $500,000, some sold during the downturn in the low $200,000s.  There are still units on the market for just less than $300,000.
If all three defendants are convicted on all counts, court documents show that they would be required to forfeit a total of $11.8 million in real or personal property to represent the proceeds of the alleged fraudulent transactions. Heaton's portion of that is not broken out specifically, but his and Baggett's forfeiture number combined is $8.6 million.
Heaton's lead criminal defense attorney, Jack Goldberger of West Palm Beach, in response to a question asking how the indictment affects Heaton's interests in the Vero Beach Hotel and Spa and the remaining condo units to be sold, issued a statement Monday saying, "We have entered a not guilty plea, deny that there was any wrongdoing that occurred and we have requested a trial by jury.  These allegations have no effect on the units for sale at the Vero Beach Hotel and Spa."
Heaton is a prominent figure in the Vero Beach real estate community with two successful subdivisions nearing completion on the island. The Palm Beach headquarters of Heaton's  development company did not respond to a request for comment.