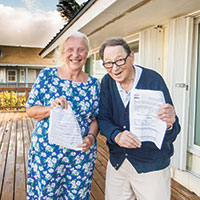 Scammers used local identities to file for FEMA cash after Hurricane Irma
STORY BY RAY MCNULTY
Photo: Helen and Steve Barnett at their home in Wabasso Beach.

Two weeks after FEMA housing inspectors showed up at her Summerplace home, Helen Smith Barnet still doesn't know who pirated her and her husband's identities to file fraudulent claims in the wake of Hurricane Irma, or how they did it.
Nor does anyone at FEMA.
"Apparently, there's a major scam going on," Barnet said after learning that her and her husband's dates of birth, Social Security numbers and Doubloon Drive address were used to file for emergency FEMA funds.
"When the first inspector knocked on our door, we had no idea what this was about," she added. "It's scary that something like this is going on – people are using our personal information and our property to steal money – and we don't know about it."
Barnet said the inspector, a contractor who worked for WSP USA Inspection Services, told her he had discovered three similar claim-fraud cases that morning.
A spokesperson for FEMA's External Affairs Office in Florida could not confirm that report. 
"We are researching the claim numbers, will talk with the property owners and try to find out what transpired," FEMA's Yvonne Smith said. "But we can't say with any certainty that we've had a lot of people calling about this."
That could be because the people whose identities and properties are being used by scammers to file fraudulent claims don't yet know it is happening.
It wasn't until a "tall, thin, balding, late-middle-aged man wearing a bright red-and-yellow jacket and driving a white car with Texas plates" came to their oceanfront home that the Barnets, who moved to Vero Beach from Connecticut 17 years ago, discovered their identities had been stolen and were being used to rip off the government.
"This guy shows up at our front door, tells us he's an inspector for FEMA and asks if we had put in claims for emergency funds," said Barnet, a retired psychologist. "We told him we didn't, so he showed us the paperwork, which said we had filed two claims – one under my name, one under my husband's name – citing damage from Irma.
"The paperwork said the claims were filed Oct. 10, and they had our birth dates and Social Security numbers," she added. "But the phone number had a 600-something area code, which wasn't ours. It also said we had flood damage, which we didn't.
"We never applied for FEMA assistance."
So Barnet immediately called the FEMA Fraud Tip Line, first to check on the inspector, then to report the fraud.
She learned that the man at the door was a pre-qualified inspector with WSP USA, a private company that contracts with FEMA's Disaster Housing Inspection Services Program, which provides emergency grants to property owners whose dwellings have been damaged by natural disasters.
"I don't remember his name," Barnet said, "but he was legit."
The claims weren't.
Barnet said the fraudulent claims requested the FEMA funds be deposited into a Green Dot Corporation prepaid credit-card account belonging to a David E. Ferdinand with a davideferdinand77@gmail.com email address.
"Sounds like bull, right?" Barnet quipped. "Who knows what his real name is?"
Better yet: Who knows how much he has stolen in FEMA funds?
Barnet said the WSP USA inspector told her that, in the immediate aftermath of a hurricane or other such disaster, property owners can call FEMA, say their home was so damaged that they need assistance in paying for temporary housing, and the funds will be sent directly to the applicant.
"He said the government will send you $1,000 with no questions asked," Barnet recalled. "How many times do you have to do that to become a millionaire?"
After the claims using the Barnets' home and identities were filed, the WSP USA inspector – adhering to FEMA procedures – followed up with three phone calls to the number on the application to inspect the damage. When he couldn't reach the applicant by phone, he went to the house.
Barnet said she has since received emails from FEMA representatives who acknowledged her complaint and said they are investigating the bogus claim.
One response came from Thomas McQuade, an investigator in FEMA's Fraud Unit: "Since Hurricanes Harvey, Irma and Maria, we are receiving an unprecedented number of complaints. We are attempting to address each one in a timely manner. Please send us a phone number so that an investigator can contact you."
Last week, however, a second inspector – from Vanguard Emergency Management, also a FEMA-contracted company – went to the Barnets' house, apparently in response to yet another claim seeking funds for temporary assistance from the agency's Individual and Households Program.
The couple wasn't at home, so the inspector left a notice that read, "Don't Delay – Call Right Away – and included her name and phone number from the 352 area code.
Barnet said she called, but there was no answer and the voice mailbox was full.
"My husband called the FEMA line again, and he was told the claims had been withdrawn," she said. "But who knows?"