F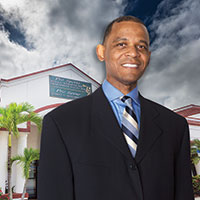 eds take over drug case against Dr. Johnny Benjamin
STORY BY BETH WALTON

The Vero Beach surgeon whose high-profile drug trafficking arrest earlier this month shocked the community appeared shackled and handcuffed in a federal courthouse last week.
Dr. Johnny Benjamin Jr. of the Pro Spine Center was transferred to the custody of U.S. Marshals Oct. 18 after the Drug Enforcement Agency filed a complaint detailing a yearlong investigation into alleged drug dealing by the physician.
At court in West Palm on Friday, federal prosecutor John McMillan told the judge his office planned to seek pretrial detention, a motion commonly made when a defendant is thought to be a danger to the community or a flight risk. A hearing on the issue was set for Oct. 25.
Benjamin, 51, is a registered controlled substance prescriber in Indian River County and holds staff privileges at the Indian River Medical Center, according to the Department of Health.
He has been incarcerated since Oct. 12 when Indian River County Sheriff's Office deputies quickly arrested him after he allegedly became suspicious of a DEA undercover informant and seized his cellphone.
Assistant State Attorney Ryan Butler also filed paperwork that day charging the doctor with attempted drug trafficking involving fentanyl, a felony offense. The DEA has now assumed responsibility for the case and Butler said with Benjamin in federal custody, his office planned to drop its charges.
Fentanyl is a powerful, addictive narcotic often used as a cutting agent by illicit drug dealers.  Misuse and over-prescription of the drug has become a serious problem in the United States, resulting in thousands of deaths. 
Federal prosecutors have charged Benjamin with two felonies: conspiracy to possess with intent to distribute a controlled substance resulting in death, and attempted possession of a controlled substance with intent to distribute.  The doctor could face life in prison if convicted for the first offense.
The federal complaint, written by Special Agent Michael Buemi with the DEA, alleges Benjamin was involved in a cross-country counterfeit drug trafficking operation and provided the fentanyl-laced oxycodone which led to the 2016 overdose death of a Palm Beach woman.
As investigators looked to see how the victim was able to access the deadly pills, they were able to track down her dealer, and that person's supplier, using unique markings etched into the drugs left behind at the crime scene.
Both defendants agreed to work with the DEA in exchange for consideration of cooperation at sentencing.  The distributor then began a series of recorded meetings and conversations with Benjamin while working as an undercover informant.
Buemi's Oct. 13 complaint describes the physician telling the DEA informant that the West Palm woman allegedly killed by his pills was just another "page in a large stack."
Later, hours after agents observed Benjamin engage in an illegal drug transaction behind his clinic, the informant warned the doctor the new batch of pills was no good; the drugs were causing people to go to the hospital.  Benjamin said he would tell his distributors, and told the informant not to deal the bad drugs locally, according to court records.
In court last week, Benjamin, dressed in navy prison garb awaiting his first appearance in front of U.S. Magistrate Judge James Hopkins, rarely took his eyes from his wife. The woman, dressed as if she was headed to church, sniffled and blinked back tears as she sat alone in the courtroom pews.
Moments before he was taken outside, he looked her in the eye and mouthed, "love you." 

Benjamin is expected to be formally arraigned in November.