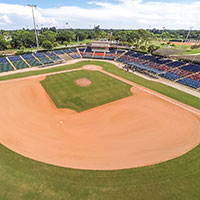 O'Malley believes MLB will take over our Dodgertown
STORY BY RUSTY CARTER

There's a certain urgency behind Peter O'Malley's effort to ensure Major League Baseball remains an integral part of Historic Dodgertown.
"I turn 80 in December," O'Malley said when reached at his Los Angeles office. "I look at it as I've got 4-5 good years ahead. I'm proud of what we've done, but unless I can anticipate what is next I haven't done it right."
The current "next" is securing an agreement to have Major League Baseball take over programming at the 80-acre site, where scores of sports teams now train each year and thousands of youth players come for tournaments and training, often under the tutelage of former Major League stars.
"I truly believe it will happen," O'Malley said. "They're doing their due diligence." And what would Major League Baseball do with the sprawling facility, with its five professional baseball fields including a 6,500-seat historic stadium, along with five other fields for softball, football, soccer and other sports, conference and training facilities, dining hall and 89-room motel?
"Let the imagination run wild," O'Malley continued. "I'd think about how to use Dodgertown year-round.  How about classes for umpires, perhaps aspiring executives? Maybe it is seminars. Why not a class to teach people how to be a baseball scout?"
O'Malley, who led the group that rescued the failing facility in 2012 and now serves as president and CEO of Dodgertown, has taken his case to baseball's highest level. He's met at least twice with MLB Commissioner Rob Manfred in New York, and in July of this year Manfred paid a visit to Dodgertown.
Indian River County Administrator Jason Brown confirmed the talks with Major League Baseball and is hopeful the deal will come together. The county invested $17 million in Dodgertown in 2001 and owns the property.
The Dodgers left Vero Beach for good in 2008, relocating its spring training operation to Arizona. That put Indian River County in a quandary.
"We were running it," Brown said of Dodgertown. "That wasn't the plan."
By 2009 Minor League Baseball had agreed to lease and operate Dodgertown as a training facility, but "they had a bad experience," Brown recalled, noting that within two years the organization asked to get out of the arrangement.
That opened a door for O'Malley, who had already spent much of his adult life as a key figure in the Dodgers organization, including 28 years as owner and nearly a decade as chairman of the board. O'Malley briefly entertained seeking a second stint as Dodgers owner in 2012, but ultimately withdrew his bid.
Instead, O'Malley recruited his big sister, Terry O'Malley Seidler, as well as former Dodgers pitchers Chan Ho Park and Hideo Nomo as investors in a new business, transforming Dodgertown into a multipurpose training and tournament venue. They took over the lease in 2012 and by 2016 had turned a profit.
O'Malley feels confident about his vision for the future of Historic Dodgertown, but in the interim, he had another matter requiring his presence.
"Tuesday night," he said proudly, "I'll be in Dodger Stadium watching Clayton Kershaw pitch Game 1 of the World Series."