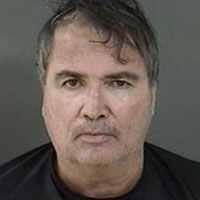 Accused island murderer acts as own attorney at hearing
STORY BY BETH WALTON
Photo: Asbury Perkins II

Asbury Perkins II, the island resident charged with the murder of his estranged wife, appeared Sept. 20 as both defendant and legal counsel in a contentious, hour-long hearing before Judge Cynthia Cox.
Dressed in a red, jail-issue jumpsuit, with his legs shackled and hands bound in metal cuffs, Perkins demanded and got approval for a new investigative team to help prepare his defense.
The accused was allowed to drop his public defender in August 2016 and is now representing himself pro se, a Latin phrase that means "on his own behalf."
Perkins was arrested in connection to the murder of Cynthia Betts in November 2015 after Indian River County sheriff's deputies found him inside Betts' home on Seagrape Drive with her body wrapped in a rug in the laundry room, according to an arrest affidavit filed with the court.
There were garbage bags tied over her hands and her legs were separated. Someone had shot her in the back. There was a blood trail between the laundry room and a bedroom and detectives found a loaded .38 caliber revolver in a dresser drawer.
Perkins entered a not guilty plea to first-degree murder shortly after he was apprehended. According to an arrest affidavit, he told detectives he shot his wife three times because she took money from their account and "continually nagged him." 
In a September 2016 letter to the court, he announced his intention to prepare an insanity defense based on his wife's behavior.
During last week's hearing, Perkins, a wiry, 6-foot-tall man with thick, framed glasses, salt and pepper hair and gray stubble on his face, lashed out at the investigative company that had been hired to help him prepare his defense.
Pinstripe Investigations was retained by the court to help locate potential witnesses and review ballistics evidence to assist Perkins defense, but Perkins told the court the work done by the company over a four-month period amounted to little more than Google searches and printouts of publicly available case law. Months had gone by without proper communication, he said.
"Did you ever send anyone out to physically meet with anyone, to talk with anyone on this case," he asked Pinstripe employees.
Investigators with the Melbourne-based company forcefully defended their work from the witness stand. Online research and case review is a large part of private investigation, they said.
Representatives from the company twice met with Perkins at jail, but to keep findings confidential, the firm did not mail information to the detention center, testified John Aiani, owner of Pinstripe Investigations. 
"Under normal circumstances, we would have gone to the attorney who is handling the case, but you being pro se, we didn't have that opportunity," he said. "We have a client privilege obligation that we need to meet and whether the jail adheres to that is not in our control."
Pinstripe was hired by the court for a certain number of work hours and its investigators had run out of time, Aiani said. In addition to reviewing 52 items Perkins asked them to investigate, the agency's contractors studied hundreds of crime scene photos and documents related to the case. He called Perkins' allegations of poor work unfounded.
"We followed your directions that you gave us and what you wanted us to do," a visibly frustrated Aiani retorted. "You didn't allow us to do our own investigation. You specifically directed us on what you wanted."
Aiani reminded Perkins that he reviewed a receipt for the agency's work and signed the invoice. "I think you have the problem, sir, not us," the investigator snapped.
Tension was high as Perkins and his investigative team continued to debate the merits of the investigators' work in open court. Judge Cox, agitated by the proceedings, finally stopped the testimony. 
"I don't need to know all this," she said, telling Perkins to move things along. "This isn't your time to speak with people, this is my hearing."
Christopher Taylor, the prosecutor assigned to the case, asked Cox to deny Perkins' request for a new investigator and more investigative resources based on his lack of credibility. This is a pattern, Taylor said. Perkins is not satisfied with anybody or anything.
Pinstripe Investigations is the second investigative company assigned to Perkins that hasn't met his expectations. Communication with investigators while in jail, court documents note, has been his biggest challenge.
"We will be in the same position a couple of months from now," Taylor said, arguing against Perkins' request.
With a show of sympathy, Cox told the prosecutor she agreed, but that she was bound by the rules of the court. Perkins needs to prepare for trial and it wouldn't be right to make him work with an agency with which he is not comfortable with, she reasoned.
There is obviously a problem between Perkins and Pinstripe, Cox said. "If he needs additional work, whether it be with them or someone else, then I am required to provide him with that."
Cox told Perkins he had 10 days to submit to the court the names of new experts who can assist him in pretrial preparations. She said the work previously done could not be duplicated.
"I'm not entering orders like this again," Cox warned.
Perkins wants Miami investigator Pedro Fernandez-Ruiz, who was present in court, to take over some of the investigative work in his case.
Cox declined to assign him to Perkins' team Wednesday, saying Fernandez-Ruiz first needed to review the work of Pinstripe and then prepare an estimate of time and funds needed. "It's not an open checkbook," she said.
Perkins and the investigator seemed baffled about how to move forward. The two have yet to have a substantial conversation.
Fernandez-Ruiz said he tried to meet with Perkins at the jail, but was denied entry.  "One of the comments was, 'Well, you know what [Perkins] did,'" the private investigator said outside of the courtroom.
Court records show that Fernandez-Ruiz was told he wasn't allowed inside because he was not yet an investigator assigned to the case. Officials at the jail did not respond to a request for comment about the impasse.
Communication is just one of many problems Perkins is facing as he prepares his defense from behind bars.
In a flurry of handwritten motions sent from the jail, the defendant has asked for access to word processing software, law books and approved leave to conduct depositions. He also requested his handcuffs be removed while he is in court.
Cox frowned at the defendant turned lawyer as the proceedings came to a close. "You send all this stuff and I don't understand," she said. "It's not clear and in order what you want."
Perkins is being held at the Indian River Detention Center without bond as he prepares for trial.