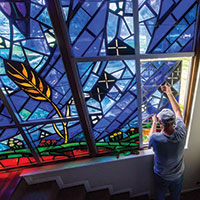 Christ by the Sea reinstalls windows shattered by vandal
STORY BY SAMANTHA ROHLFING BAITA

Almost six months after the Easter Week vandalism at Christ by the Sea United Methodist Church, during which several one-of-a-kind stained-glass windows were shattered, the repaired and now better-protected windows have been re-installed, and a dedication service is scheduled for this Sunday.
After the three incidents of vandalism in April, the windows were shuttered, and the congregation celebrated Easter Sunday without the jewel-colored sunlight that normally floods into the sanctuary.
Shock and sadness prevailed in the congregation as word of the damage spread, and no one appeared to have any idea of who might have done such a thing – or why. Pastor Cliff Melvin included the unknown perpetrator(s) in the congregational prayer on Easter Sunday.
Then, on May 2, Vero Beach Police charged Keith Andrew McFarlane III with three felony counts of criminal mischief. McFarlane was a troubled 17-year-old at the time of the vandalism, but turned 18 while the case was moving through the courts. According to the Indian River County Courthouse Criminal Division, McFarlane has not been charged as an adult.
The windows had been designed and created in the 1990s by world-renowned stained-glass artist, sculptor and painter, the late Conrad Pickel, in his Vero Beach Studio. Pickel's son, Paul, had worked on the original project and has carried on his father's business, so he and his staff had the skills to repair and recreate the broken segments and painstakingly reassemble each window.
As a result of donations from congregants and friends, the church was able to purchase clear, impact-resistant glass sections, positioned in front of the stained-glass, to protect the delicate works of art. 
Upon seeing the brightly-colored, richly symbolic windows for the first time since the April vandalism, pastor Melvin said, "When I walked into the sanctuary and saw the beautiful glass back in place after five months, it was like a wonderful shock to my system.
"I had forgotten how much they add to the awe and overall 'feel' of our sanctuary. I am so thankful for Pickel Studios and their excellent work repairing and renewing our precious windows."