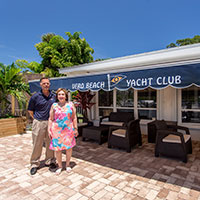 Membership up at Yacht Club after renovations
STORY BY RAY MCNULTY
Photo: Vero Beach Yacht Club General Manager Shawn Witmer and Commodore Barbara Ebstein.

Three years ago, after seeing membership fall to an alarmingly low level, the Vero Beach Yacht Club's leadership took a hard look at its aging facilities, which were in dire need of structural upgrades and aesthetic enhancements.
Committees were formed, priorities were identified and plans were made – all with the goal of making the club, founded in 1926, more attractive to new and younger members.
Now, the club has a refurbished Burgee Room bar area, new tiki bar, rebuilt seawall and waterfront patio, and a completely renovated, fresh-feeling clubhouse that more welcoming, more energy efficient and safer.
It also has a membership that has grown from 478 to 610.
"We're at our maximum," Commodore Barbara Ebstein said. "We'll re-evaluate it over the next six months, but we don't want to over-tax our staff and overextend ourselves. We've been at full capacity all summer, and we've got several members coming back in October.
"So anyone who wants to join now goes on a wait list."
In fact, the $500,000 capital improvements project – new furniture is expected to arrive in October – was funded by initiation fees of new members. And the upgrades have brought in more new members, most of them year-round Vero residents, many in their 40s, 50s and 60s.
According to Shawn Witmer, the club's general manager, 80 new members have joined since May 1, $225,000 in initiation fees have been collected since Jan. 1, and the overall membership's average age has dropped from 75 to 62 over the past two years.
"The membership needed to get younger, and a lot of our newer members are in their 50s," said Shawn Witmer, the club's general manager. "We also have about 180 singles.
"We offer great food, great entertainment and great camaraderie," he added. "This isn't just a yacht club. It's a social club with docks."
Work on the clubhouse, which was built in 1964, began May 15, and was completed in time for a re-opening celebration on July 4.
"Not only is the building safer, more energy efficient and more cost-effective, but we've changed the look and feel of the place," Ebstein said of the seven-week, $250,000 project. "The whole ambiance of the interior has changed – there's a more club-type feel – and we still haven't added the new furniture.
"The new decor will give the clubhouse a more contemporary look."
Witmer said the club's initiation fee will remain at $2,000 per person through Oct. 31, then will increase to $3,000. Currently, the annual dues are $1,260 plus tax.
"There's no swimming pool, golf, tennis or fitness, but we have reciprocal agreements with 10 other clubs locally, including golf clubs," Witmer said. "So when you consider the dining, social offerings and camaraderie here, it's really an incredible value."