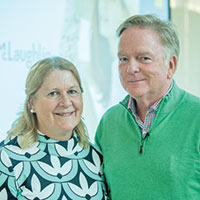 Owner of Village Shops Jay McLaughlin buys Garage Pizza
STORY BY MICHELLE GENZ
Photo: Jay McLaughlin and his wife Joan.

It's been two years since Village Shops developer and national retailer Jay McLaughlin developed a yen for pizza that couldn't be sated by Vero's plethora of pizza parlors.
He wanted to open a spot at his boutique shopping center in Indian River Shores, but when plans to install pizza ovens in a former flower shop in the plaza fizzled, he set his sights on the mainland.
Last week, McLaughlin bought the business that was Garage Woodfired Pizza, which closed right after Hurricane Irma passed through Florida.
That downtown pizza place at 1802 Old Dixie Highway opened in late 2015 under the creative hand of Michael Lander, former executive chef of the Moorings Club who went on to open the fine dining restaurant, Michael's Table. Lander's son Dylan, a culinary school graduate who eventually ran Garage Pizza on his own, has left Vero for a restaurant job in Colorado Springs.
The building now leased by McLaughlin is a former Texaco station that Lander and his investors gutted and restored with red banquettes and a large 850-degree wood-fired pizza oven at its center.
That oven will stay, but much of the interior will change to reflect McLaughlin's goal of attracting island customers, says Billy Moss, who brokered the sale of the business through Lambeth Commercial Real Estate. "He's going to turn it into something really special," says Moss.
Moss' assessment may well be prescient, considering McLaughlin history of retail and restaurant success. Starting with one store in NYC, he and his brother Kevin McLaughlin built the high-end chain of women's and men's clothing stores that carry his name, expanding the brand to more than 50 stores before selling a majority stake in the business to a private equity group in 2011.
In 2013, McLaughlin and his wife Joan bought, renovated and revived the Village Shops on North A1A, modeling the renovation on the iconic Brentwood Country Mart in Los Angeles.
The couple has owned Islands, a successful restaurant a block from Central Park on Madison Avenue in the Upper East Side of Manhattan, for 30 years. As part of the Village Shops remake they opened Citron Bistro at the plaza, which Jay McLaughlin described at the time as "a French bistro-type environment with pastries and fresh bread and the best coffee," with indoor and courtyard seating
McLaughlin was reached briefly by phone on vacation in Ireland, and promised to divulge more details about his mainland venture when he returns next month.
Lander will continue to operate a limited version of Michael's Table at the beachside Orchid Island Brewery. Since March, with no real kitchen – no hood, no grease trap – he's been mustering up a menu Tuesday through Sunday, opening at 2:30 in the afternoon, and 11:30 a.m. for a Sunday brunch.
"It's chef-touched sandwiches, and I try to run an entrée or two in season," says Lander, who was spending his Saturday afternoon working up a special of lamb chops and ratatouille.
"It's what I do," he says.