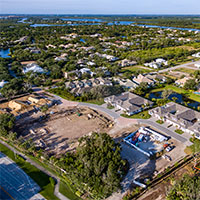 Palm Island Plantation finds sweet spot in housing market
STORY BY STEVEN M. THOMAS

The final phase of development in Palm Island Plantation, 20 courtyard homes each priced  around $900,000, will hopefully be sold out by December less than two years after construction began on the enclave, according to broker Steven Owen.
"We started in January 2017 and we've already sold 14," Owen says. "I'd be very surprised if we don't sell another three or four in the next six weeks or so before everyone goes back north, and I am certain we will sell out by the end of the year."
The 58-acre Palm Island Plantation ocean-to-river community contains a mix of estate homes, carriage homes, townhomes, condominiums and courtyard homes, ranging from 2,300 to 6,000 square feet.
"There will be only 131 units here at build-out," says Palm Island Owen. "Other communities our size don't have a beautiful beach club like ours. It is an exceptional amenity for a community this size."
"We only have 18 single-family lots left and we are building spec homes on some of those," Owen says. "If the market stays strong, the entire community will be sold out in another 18 months."
The first seven courtyard units built by Westmark Development are complete and occupied, and roof trusses were set on a 4-unit building the first week in April. At the same time, footings were being dug for another 4-unit structure, and the final 5-unit building will be underway by the end of the month.
"The market is very strong right now and we decided to go ahead and build all the remaining buildings on spec, instead of waiting till we had all the units sold. It is paying off."
Owen says the price point, an appealing set of community amenities and a maintenance-free lifestyle are the top features attracting the buyers.
A year ago, the West Indies-style homes, which have about 3,500 square feet under roof, were offered for $840,000 for interior units and $870,000 for end units.
"That is a good range," Grier McFarland, an agent with Dale Sorensen Real Estate who sells homes in the community, said at the time. "The price is right in there with what is selling. Anything under $900,000 is very popular. So those should do well."
McFarland was right and prices have crept up as they typically do in a fast-selling development. The remaining six units are listed for $885,000 to $910,000 – still a bargain for new, luxury construction on the island.
"A lot of people want to stay under a million," Owen says, "and what they find under a million for resale is not that appealing."
Two floor plans are available in the courtyard homes, both including three bedrooms and three bathrooms with two-car garages and – no surprise – spacious private courtyards.
End units include 2,642 square feet of air-conditioned space with another 858 square feet under roof, for a total of 3,500 square feet. A courtyard approximately 28 feet by 31 feet that is open on one side is set into the home, so that residents can access it from the great room, the dining room, the leisure room and the master bedroom. An optional courtyard swimming pool can be added for approximately $30,000 and Owen says most buyers are including a pool.
Interior units include 2,325 square feet of living space with 3,400 square feet under roof. The interior courtyard is approximately 22 feet by 47 feet. It floods the homes with light and can accommodate a pool and optional summer kitchen.
Both models come with a long list of upgraded features and luxury finishes, and the entire home can be finished and decorated to the buyer's taste during the construction process.
Along with some of the most appealing architecture on the island and fine-quality craftsmanship, courtyard home buyers get great community amenities, including complete yard care and exterior maintenance – including roofs and pools – and membership in the Palm Island Beach Club. There is also a marina with docks, a fitness club and two community pools.
Westmark Development acquired the Palm Island Plantation property in 2000. Construction began in 2002, with the first sales in 2003. Activity slowed during the 2007-11 real estate downturn but has accelerated in the past several years.