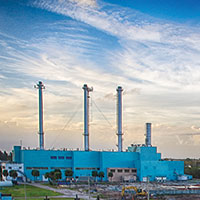 Shores keeps eye on Vero Electric sale
STORY BY LISA ZAHNER

The next hurdle to closing the Vero electric sale to Florida Power & Light is to gain approval by the Florida Public Service Commission of the financial terms of the transaction.
Since that process does not seem to be moving as speedily as the parties would have hoped, Indian River Shores has put its utility lawyer back on the payroll to keep an eye out.
On March 9, Holland and Knight's Bruce May, and Town Manager Robbie Stabe were added to both of the PSC cases pertaining to the Vero electric sale, as interested parties.
This means that they are now a part of the official record and will be notified electronically of any activity in the case.
Florida Power & Light filed two petitions or "dockets" regarding Vero electric – one for the PSC to sign off on the transaction as fair and equitable to FPL's existing  4.9 million ratepayers. 
The other docket seeks PSC approval of a redrawing of FPL's service territory to include the City of Vero Beach, portions of unincorporated Indian River County and the southern part of Indian River Shores currently served by Vero, pursuant to a closing.
 May, who is based in Tallahassee and has represented the Shores in its efforts to exit Vero electric, said late Monday that he "hadn't seen anything to make me anything other than cautiously optimistic."
 If Vero and FPL cannot manage to close the deal by early 2019, there is a stopgap plan in place calling for the sale of just the Indian River Shores portion of the system to FPL for $30 million.
That backup plan was incorporated in the sale documents, but would be finalized by the Vero Beach City Council members in office after the November election should the current deal stall out and trigger Plan B.
The Vero Beach City Council was set to get an update from its transactional attorney Nathaniel Dolinger of the Carlton Fields law firm, FPL and the Florida Municipal Power Agency this Tuesday (April 17).
Last month, the FMPA member cities voted unanimously to allow Vero Beach to exit the electric co-op in exchange for $108 million in cash, paving the way for the sale of the Vero system to FPL.