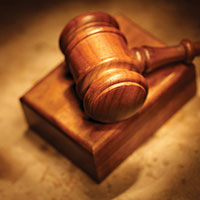 Victims' plea for leniency spares Island Club burglar a long prison sentence
STORY BY BETH WALTON

A plea for mercy by the victims of a north island home burglary has spared their neighbor, a 33-year-old opioid addict, from spending years of his life in prison.
The Hon. Cynthia Cox sentenced Christopher Lockwood to just one year in the county jail followed by two years of probation. He had been facing between 4 and 125 years in prison for his crime.
Lockwood pled no contest in December to burglarizing his neighbors' Island Club home when they were out of town. He stole an estimated $9,000 worth of jewelry, fine cutlery and cash, pawning the items throughout the Treasure Coast and lying about their origins.
Cox in March adjudicated Lockwood guilty on 11 felony counts for the crime, which happened in the summer of 2017. The charges include burglary, giving false information to a pawnbroker and dealing in stolen property. 
The negotiated plea is in the state's best interest and the victims' request for leniency justifies a deviation from the standard punishment, Cox told the defendant and his family at the sentencing hearing documented in transcripts provided by the 19th Judicial Circuit.
She told Lockwood he would not get a second chance.
"Not only is this theft, but you stole from someone who was your friend, which to me is an all-time low," Cox said. "You're getting a huge gift from the state and from the court. And hopefully you understand that there won't be another gift."
Lockwood expressed remorse and told the judge he wished to extend his deepest apologies to the victims, people he calls friends.
"I have worked with them. I have gone fishing with them. Have gone to plays with them. And I did something that I know is morally wrong," he explained. "I wasn't operating in the right mind-frame. I promise going forward I'll live a good life and I won't be back here ever again."
His testimony came after his parents spoke on their son's behalf. Peggy Lockwood said her son had been addicted to pain pills for more than a decade, a deadly habit that started during his years as a student at Florida Atlantic University.
Lockwood went to rehab in Boca Raton, and had been attending self-help support meetings, his mother explained. He relapsed this past summer when his parents were out of town. He wasn't thinking correctly. He was acting out of desperation, she said. 
"This terrible crime he committed has enabled the truth of the opioid addiction he was hiding from us to come out into the open," Peggy Lockwood said. "[Christopher] has told us he is ready to accept the professional addiction help he needs now and in the future."
At the December plea hearing the judge hesitated to accept the prosecution's offer for a reduced sentence, noting the defendant had pled no contest to misdemeanor petty theft in the past.
She wanted to make sure the victims, in their request for leniency, were aware that the burglary of their home was not an isolated incident.
The couple did not appear at the courthouse in February but wrote an email to the judge reiterating their desire for Lockwood to get a second chance.
Assistant State Attorney Brian Workman read their statement out loud to the court.
"We continue to wish for a situation in which Mr. Lockwood would be allowed to receive treatment and rehabilitation and reenter society as a good citizen," it said.
The couple left a key to their house with Lockwood's girlfriend, who was watching the residence for the family while they were out-of-town.
Upon their return, they noticed the French doors in the back of their island home were left unlocked and a jewelry box in the closet had been opened, a warrant for Lockwood's arrest states.
Initially, it didn't appear anything was missing, but weeks later while preparing to host a dinner party, they realized their sterling silver flatware was gone.
Later, the couple would discover two diamond rings, an antique gold charm bracelet and $1,000 in cash was also missing.
A sheriff's deputy found items matching the descriptions of what was stolen in a pawnshop database. A manager at Warrior Pawn in Sebastian told police Lockwood claimed he was selling goods he inherited.
Other items were sold to a second-hand dealer, Square Deal Gold Buyers, in Melbourne. In both instances, Lockwood signed paperwork indicating he was not selling stolen property. Documents show he received nearly $1,500 for the goods.