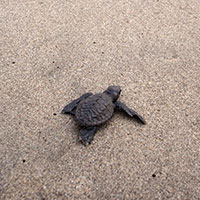 More fines in Central Beach for violating Vero ordinance that protects baby sea turtles
STORY BY SUE COCKING

Police Code Enforcement officers have issued a $150 citation against the Vero Beach Hotel and Spa for multiple violations of the city's 'dark beach' ordinance aimed at protecting baby sea turtles from crawling toward manmade light instead of being guided into the ocean by moon and starlight.
It's the third case of a fine levied for turtle lighting violations in Central Beach in recent weeks.
The resort located at 3500 Ocean Drive was cited on Aug. 2 for walkway lights, second-floor hallway lights, rope lights on a beach walkway handrail, and bright interior lights throughout the building that were clearly visible from the beach.
Then, last Tuesday and Wednesday, after nothing was done to correct the problems, dozens of baby loggerheads that hatched from two nearby nests were found near the property and at least one was killed. Members of the Indian River County sea turtle team corralled the others and returned them to the ocean.
When code enforcement officer Melody Sanderson returned to the hotel for a follow-up late Friday, she found some fixes had been made, but not all.
Lee Hunter, the hotel's director of sales, wrote in an Aug. 16 email to Vero Beach 32963 that following the Aug. 2 citation, "we immediately started working on what we needed to do to remedy the situation.
"We didn't want to move forward without knowing exactly what would be the best course of action, so we met with our engineering team and the Vero Beach Police. Now that we know what needs to be remedied, we are currently taking the necessary actions to fix ASAP."
Meanwhile, the local nonprofit conservation and education group Coastal Connections rescinded Vero Beach Hotel and Spa's designation as a turtle-friendly business.
The resort is the latest beachfront location to run afoul of the city's sea turtle protection ordinance. The law, which into effect in the 1990s, says lights must not be visible from the beach at night during turtle nesting season March 1 through October 31. That's because the animals confuse manmade light with moon and starlight reflecting off the water and crawl to their deaths on land instead of back to the ocean.
Three weeks ago, Mulligan's Beach House was visited by Vero Beach Police Code Enforcement officers after a nest full of hatchlings crawled toward the restaurant instead of into the ocean.
George Hart, who owns the Sexton Plaza restaurant and seven other Mulligan's along Florida's central and south coast, reacted quickly to the warning.
"I'm going to be out there with my maintenance team tomorrow and try to cover the east side of both signs," he told Vero Beach 32963 when he learned about the problem. "We're going to try to correct this issue as quickly as possible."
After visiting the site Hart said he directed his maintenance supervisor to replace the white lights illuminating the restaurant's signs with red lenses to comply with the protective ordinance. 
Earlier, Code Enforcement officers fined the Village Spires Condominium at 3554 Ocean Drive and the owners of a rental house on Ocean Drive and warned the Racquet Club for having bright lights visible from the beach after scores of hatchlings crawled toward busy Ocean Drive where at least four were killed.
Lt. Dan Cook, who is in charge of Code Enforcement, says his officers write an average of a dozen 'dark beach' citations during sea turtle nesting season.
"The primary goal of code enforcement is to educate," Cook said. "We don't want to fine anybody unless they are not doing the right thing. We want to make sure everyone comes into compliance. We want to make sure the turtles make it to the ocean. We're doing everything we can to make that happen . . . [and] we're going to get aggressive with it."