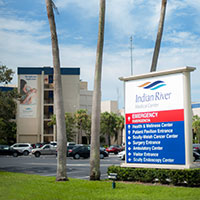 Cleveland Clinic to take over our hospital on January 1
STORY BY MICHELLE GENZ

It's a whopper of a Christmas present, to be delivered the last day of December: Cleveland Clinic will officially give its world-renowned brand and a $250 million capital commitment to Indian River Medical Center, effective Jan. 1. 
With all regulatory hurdles cleared, the final closing documents were signed last Monday, to be released from escrow by attorneys for all the parties involved after a 9 a.m. conference call on New Year's Eve.
And, as with all mannerly gift-giving, Cleveland's presents will be reciprocated. Along with getting a hospital in sound financial shape, according to numbers presented to the IRMC board of directors' final meeting last week, Cleveland Clinic Indian River will continue to receive the benefit of the remarkable philanthropy that has largely shaped the hospital over the past 20 years.
During those years, the IRMC Foundation has raised $115 million for the ever-expanding hospital on 37th Avenue. That money has built the specialized treatment centers that not only saved lives, but may have saved the hospital by catching the eye of top-notch institutional suitors, including Cleveland Clinic.
If there were any fears those donors might be wary of the merger, closing their wallets to an out-of-town newcomer, that fear was thoroughly dispelled at a board meeting where the chairman of hospital's fund-raising arm announced a stunning surge of interest that can only bode well for future improvements.
Foundation board chairman Tony Woodruff told the IRMC board at its final meeting Dec. 12 that donors are clearly excited about Cleveland Clinic's takeover, showing up in unprecedented numbers at various Foundation presentations. At one such meeting at the Moorings, 134 people showed up.
Some 150 residents attended a similar presentation at John's Island. One of the three new neurologists, Dr. Ayman Gheith, spoke at that gathering, as did Cleveland Clinic Florida president and CEO Dr. Wael Barsoum.
"We've never had these kinds of people come to the presentations, said Woodruff. "Having that kind of number means people are excited about Cleveland."
They are also excited about the latest Foundation campaign to enhance the hospital's stroke treatment capabilities.
Already accredited as a primary stroke center, IRMC will be seeking accreditation as a comprehensive stroke center with the addition of three interventional neurologists offering round-the-clock clot-clearing capabilities that until now required that patients be transported elsewhere.
Following one of the Foundation presentations, the $10 million stroke center upgrade campaign got its first $1 million donation from island philanthropists Lorne and Heidi Waxlax.
"Minutes are crucial in treating strokes so having a great stroke center in the Indian River Medical Center is a very important addition to the assets of Vero Beach," said Waxlax last week. "After hearing Dr. Gheith's presentation, we became convinced that he and his team will build a truly great stroke center."
Since then, another $400,000 has been raised, Woodruff said.
Written into the final agreement between IRMC and Cleveland is a clause that states donations made to the Foundation will stay in Indian River County during the so-called commitment period – the first 10 years of Cleveland Clinic's 30-year lease. During the partnership process, there was concern voiced that a health system might absorb Vero's generosity without the hospital seeing the benefit. The clause serves as a safeguard against that.
As hospital board members glowed with pride over the pending merger, Woodruff gave some credit to donors for the deal.
"All the programs we have at the medical center, that's why Cleveland Clinic's here. The cancer center, the heart center, everything that [donors] have done, when Cleveland came here they said, 'Wow.' We said 'wow' about them, but they said 'wow' about us."
"This is no ordinary community hospital," said Board Chairman Wayne Hockmeyer. "And the reason it's not ordinary is the philanthropy that has allowed the Scully-Welsh Cancer Center, the Welsh Heart Center, the Health and Wellness Center and everything else to be built. Now the stroke initiative is probably one of the most important things we'll see in this community in many years."
In all, the merger deal has taken almost a year to complete. And it's been almost two years since the hospital leaders voted to consider changing the independent status of the stand-alone, publicly-owned hospital.
National experts guided the Vero-based parties through the process, with Cleveland Clinic chosen from among a dozen initial respondents to Juniper Advisory's partnership query, made in early fall 2017. By November 2017, the list was winnowed to four health systems: Orlando Health, Florida Hospital, HCA and Cleveland Clinic.
When it came time to tour those hospitals, it was Cleveland that first welcomed IRMC officials on a frigid January morning to its stunning main campus, one of the best-known hospitals in the world and the No. 2-rated hospital in the U.S., according to U.S. News.
With its dazzling white walls lined with museum-quality fine art, Cleveland Clinic appeared to inspire a love-at-first-sight longing in its Vero guests.
One year later, the knot will be tied, with New Year's Eve providing a fitting occasion for celebration and champagne.
As if to head off any hangover-induced confusion, though, residents won't be waking up to a Cleveland Clinic logo on their 80-year-old hospital on Jan. 1.  Cleveland has decided to wait a couple of weeks before mounting new signage that will identify Cleveland Clinic Indian River.
The Vero hospital will join Cleveland at the same time as three hospitals that are part of Martin Health, which also is finalizing a merger with Cleveland Clinic. Along with IRMC, Tradition Medical Center in Port St. Lucie, Martin Memorial South in Palm City and Martin Medical Center in downtown Stuart will join Cleveland Clinic's lone Florida hospital in Weston in the newly expanded system.
Cleveland Clinic Indian River's new CEO, Dr. Gregory Rosencrance, arrived in Vero two weeks ago. He previously served in Cleveland as chairman of the health system's Medicine Institute.
IRMC's interim CEO Karen Davis has agreed to stay on to help with the transition before returning to her prior post with a healthcare consultancy.