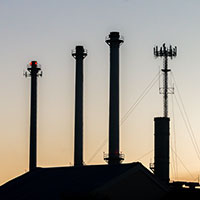 Historic day for Vero electric customers and staff two weeks away
STORY BY LISA ZAHNER

Unless something goes awry, 50 Vero electric employees will clock-in for their first day of work with Florida Power & Light on Dec. 17.
They'll get new badges, new uniforms and new FPL fleet trucks. Then at 10 a.m., FPL and the city's lawyers will host a public ceremonial closing in City Council chambers at Vero Beach City Hall.
"Our attorneys in coordination with FPL attorneys will have most if not all the signatures prior to the seventeenth," said Vero Beach City Manager Jim O'Connor.
O'Connor said the closing ceremony is being coordinated by FPL's Regional External Affairs Manager Amy Brunjes, a key player who has been pushing for the Vero electric deal since the beginning, encouraging local leaders and pro-sale activists to hang in there.
"There will be an appreciation luncheon [after the ceremony] ... to thank the many community leaders and customers who have supported us over the years," said Brunjes.
Vero's Director of Electric Utility Operations Ted Fletcher will be one of the 50 employees – who know Vero's system and customer accounts well – making the transition from working for a municipal-owned utility with 34,000 local customers to an investor-owned utility with 4.9 million customers statewide.
There will be a "welcome event" for the employees where they will receive their new safety equipment and ID badges, plus an "onsite benefits presentation and enrollment," Fletcher said Monday.
Fletcher expanded his role after Vero's last electric utility director, Tom Richards, left, and O'Connor's four decades of municipal management experience include overseeing electric utilities. Between them, they've kept things running the past three years when it was impossible to find a new director who would sign on to lead a utility that was in the midst of being sold.
After he turns over the keys to Big Blue and the other equipment to FPL, Fletcher's new role will be operations leader for distribution. "I will be on the transition team helping integrate COVB/FPL system together," he said.
All these plans and changes were made possible by a unanimous vote last week by four members of the Florida Public Service Commission sans the absent Chairman Art Graham, who had opposed the terms of the $185 million deal, saying FPL should not be allowed to pay $116.2 million more than the book value of the Vero system.
Graham and the Florida Office of Public Counsel's office advocated for some way of recouping that cash, possibly via a surcharge on Vero electric customers, postponing major rate relief for Vero, county and Indian River Shores customers for several years.
FPL rates plus a hefty surcharge would have amounted to a substantially different deal than what was approved, but under the current contract, Vero will close its billing books on Sunday and issue final bills. The first FPL bills should be cut in late December, with later billing cycles getting their first prorated FPL bills in January.
The terms of the deal, FPL said throughout the PSC proceedings, were "carefully crafted" to provide long-term, system-wide economic benefit with no negative impacts to existing customers.
Any future FPL rate increases would need to pass muster with the PSC through a petitioned rate case anyway, and the PSC would likely not allow the excess money spent to acquire Vero electric to be counted in the cost of providing service to the rest of FPL's system.
The $116.2 million is essential to Vero, giving the city the money it needs to pay its way out of two long-term wholesale power deals partially responsible for high rates.
About $108 million will go to the Florida Municipal Power Agency so Vero can exit its membership in the power co-op. Another $20 million will compensate the Orlando Utilities Commission for letting Vero out of its wholesale power supply contract several years early.
In the end, the PSC staff came around to FPL's arguments, and to the pleas of Vero's customers. After an appeal and an evidentiary hearing, the Commission affirmed an earlier vote to go ahead with the sale terms as written. Commissioner Gary Clark, who supported the sale from the start, said it was the commission's chance "to do something very good for the people of the state of Florida."
Ironically, even Commissioner Donald Polmann, who voted with Graham against the deal in June, was swayed after the October evidentiary hearing where appellant Lynne Larkin cross-examined Vero and FPL officials and experts on behalf of the Civic Association of Indian River County.
Polmann said a thorough case was laid out to establish the "extraordinary circumstances" necessary to warrant the terms of the sale. "When you look at the big picture, there are no issues with this being in the public interest," Polmann said.
After all electric utility debt in the form municipal bonds is paid off, Vero taxpayers are expected to have about $30 million in residual cash proceeds from the sale.
In addition, as part of the sale, FPL is leasing the Big Blue property for $1 million per year while a new substation is  built across Indian River Boulevard on a portion of the "old postal annex" property. FPL will also pay tax on all of its newly acquired electric utility assets, providing nearly $2 million in annual revenue where there was none under city tax-exempt ownership.
Several proposals have been made about what to do with the $30 net sale proceeds, and preliminary discussions have taken place at city meetings, but nothing final has been decided as city leaders have been focused on getting the regulatory approvals needed to close the deal.