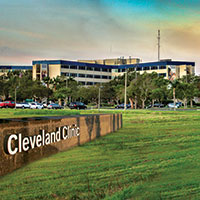 Hospital district picks Cleveland on 4-to-3 vote
STORY BY MILTON R. BENJAMIN

The Indian River County Hospital District's 4-to-3 vote to enter into negotiations with Cleveland Clinic masked the fact that each of the four suitors of Indian River Medical Center had at least one advocate among the seven trustees.
In fact, during discussions that preceded vote, the takeover candidate that had the broadest support was the Adventist Health System, the first choice of Dr. Michael Weiss and the second choice of all six of the other trustees.
As the discussion went around the table Tuesday, each of the first four trustees to speak had a different view as to which health system would be the best partner for IRMC.
Weiss, the first to speak, said he favored Adventist.  But Ann Marie McCrystal, up next, said she had come to conclude "for our hospital and this community, our best placement would be with Cleveland Clinic."
"Not so," said the third speaker, Tracey Zudans.  "I was not impressed with my visit to Cleveland Clinic on a touchy-feely basis," she said.  "I was turned off by the idea of standardization and efficiency.  HCA would be my first choice."
But the fourth speaker, Barbara Bodner, said she had "kind of cancelled out HCA.  I think it is way too big. My number one choice is Orlando Health.  I know everyone worries about Orlando Health being small, but I feel for our community, they wouldn't be too huge."
So at this point, the board was split four different ways.
But the last three trustees to weigh in – Karen Deigl, Allen Jones and chairman Marybeth Cunningham – all came down in favor of Cleveland.
"Each of the systems was outstanding," Deigl said.  "But we want transformation and who is going to do that best.  Cleveland Clinic has a very specific brand, and they enforce that brand.  The economic driver for our community is a huge one.  What will drive people to come here.  What a great opportunity to expand our market share.  I believe Cleveland Clinic will bring that."
Jones then weighed in, reporting to the group at some length on his detailed analyses of quality data and financial data for all four health systems.
"Cleveland Clinic and Adventist stand out to me as the two that are financially sustainable.  When I look at financial sustainability and quality, Cleveland Clinic and Adventist differentiate themselves," he said.  "I have come to a conclusion that Cleveland Clinic is the best, followed very closely by Adventist."
His support gave Cleveland Clinic three apparent votes, with a four-vote majority needed for a recommendation.  That left it up to Cunningham.
"The worst thing we could do is not go forward," she told her fellow trustees.  Cunningham spoke of talking to a variety of Vero Beach doctors about the Cleveland Clinic.  "Some are very, very nervous about the Cleveland Clinic coming here.  Some are really excited about it taking us to a new level, and wanting to be part of it.  I would like to be part of the best."
With that, it was time to vote.  Again, they went around the table on the motion to enter into negotiations with Cleveland Clinic.  Weiss, Zudans and Bodnar all voted "Nay," but the votes of McCrystal, Deigl, Jones and Cunningham carried the day.