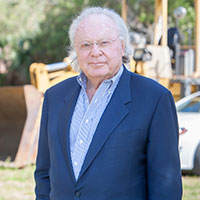 George Heaton strikes plea deal in Vero Beach Hotel financing scheme
STORY BY BETH WALTON
Photo: Developer George Heaton

George Heaton, developer of the Vero Beach Hotel and Spa, faces up to five years in prison after entering into a plea deal last week to a single felony charge of conspiracy to make false statements to a federally insured institution.
Heaton, 74, thus escaped more serious charges, punishable by up to 30 years in prison, for his role in a complex scheme whereby he deceived banks about the sale of condo units at the Vero Beach Hotel to obtain the money he needed to finish construction.
He also was ordered to pay some $263,000 in forfeiture to compensate for the financial crime, and could well be forced to reimburse banks for the estimated $3.5 million federal prosecutors said they lost in the scheme.
During the real estate slowdown a decade ago, Heaton needed to show a certain number of condo sales in order to get construction financing released for the luxury hotel and condo property on Ocean Drive.
Had the case proceeded, prosecutors said they would have been able to prove that millions of dollars in buyers' incentives for sales contract deposits, rebates and cash-to-close paybacks were not disclosed to the banks that financed the condominium units.
The defendant and his co-conspirators – an accountant and a lawyer – provided false information to four banks at least eight times, records show.
Deborah Baggett, 55, an accountant who worked for Heaton, pleaded guilty the previous week to the same charge for her role in the scheme.
Baggett and Heaton, as part of their plea deals, agreed to help prosecutors and presumably testify against Vero Beach attorney and escrow agent Eric Granitur, 60, who handled the closings on the condominium units.
Granitur's trial is scheduled for February, but it could be delayed until summer.
Heaton will be sentenced when the trial is over.