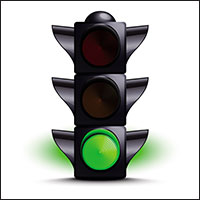 New traffic light at Fred Tuerk Drive will use smart-signaling technology
STORY BY LISA ZAHNER

When town officials announced last year Indian River Shores would be getting a pedestrian crosswalk and a fully activated traffic signal where the blinking light is now at Fred Tuerk Drive, residents raised concerns that the light would slow the traffic flow on Highway A1A.
In response, Town Manager Robbie Stabe told the Town Council at its December meeting that the traffic light would use smart-signaling technology to minimize disruption on the busy state highway.
Sensors in the ground will pick up the presence of a vehicle approaching the intersection from Fred Tuerk Drive, where residents exiting The Estuary, or the back gates to Bermuda Bay and John's Island, would travel, but the signal would only turn yellow, then red, if the vehicle stops and lingers for a time at the light.
"It will be delayed, so if someone makes a right turn, it won't activate the light," Stabe said. "If someone sits there a certain number of seconds, it will know that it's somebody making a left turn and it will activate the light."
Stabe reminded the council that the light could also be activated by pedestrians wanting to safely cross A1A. Councilmembers pointed out that it would take some time for residents to get used to watching for a red light at that intersection, and it was suggested that Public Safety Chief Rich Rosell and his officers might have an added presence there during the transition.
According to FDOT construction estimates, the new signal should be installed and active by December 2018.