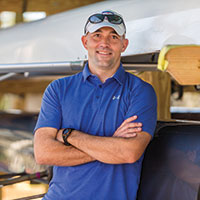 Vero Beach Rowing hires director to take club to the next level
STORY BY RAY MCNULTY
Photo: New Vero Beach Rowing Club Director Austin Work.

As Austin Work drove east through Texas last Saturday, eager to embark on his new job as the full-time rowing director of Vero Beach Rowing, his 7-year-old Australian shepherd was resting comfortably on his lap.
"Her name is Stella," Work said, "and she's a great boathouse dog."
All she needs now is a boathouse – and that's in the works.
"This club is ready to take off," said Work, "and I'm excited to have the opportunity to be a part of it and nurture its competitive aspirations."
The rowing club launched in January 2017 a campaign to raise the $2.3 million needed to build a 12,000-square-foot boathouse and rowing center on leased, city-owned land at MacWilliam Park, under the east side of the Barber Bridge.
The center, which will include an already-completed, 100-foot-long floating dock, would provide a base for the club's operations, training facilities and secure storage for its boats.
Thus far, the club, which was founded in 2008, has raised $1.8 million and hopes to reach its goal by the end of March, with plans to break ground early this summer.
"I've never been to Vero Beach, so, except for seeing photographs, I'm coming in blind," Work said from the road. "But from what I've seen, what the club has right now is a really solid foundation.
"We have the necessary equipment, the necessary coaching boats, and the necessary local support. Completing the new boathouse is the next step in the process. We've got all our stuff. We just need to move it into our house.
"Once the boathouse is built ... we'll have everything we need to take the club – and, really, the sport – to the next level in the Vero Beach area."
Taking the club and sport to the next level is exactly why Work, 37, is taking this leap of faith.
That, and the warmer climate.
Prior to his most recent job – head juniors coach and then rowing director of the Austin (Texas) Rowing Club – Work coached rowers at Wellesley College in Massachusetts for five years and, before that, at the Chicago Rowing Foundation.
"I was looking for something I could really sink my teeth into, something I could help build from the ground up and make an impact," Work said of his decision to reply to Vero Beach Rowing's advertisement in ROWING Magazine. "I'm also excited about having the chance to live in Florida. The ocean, the golf, the weather ... It's not New England or Chicago."
Work, who arrived in Vero Beach late Sunday, brings with him more than his faithful dog. He brings extensive coaching experience – at the high school, college and masters levels – along with other impressive credentials.
As an athlete, he rowed at the Salisbury School in Connecticut and at Lewis & Clark College in Oregon, where he was the team's captain while studying film and theater.
After graduating with a bachelor's degree in 2003, Work moved to Chicago to study improv comedy at The Second City. It was there that he began his coaching career, recruiting and working with more than 200 novice and junior rowers for five years.
He then was hired by his former college coach to help coach the novice women at Wellesley. There, he helped develop 12 NCAA All-America rowers and coached teams that earned medals at the conference and national championships.
Work, though, wanted a warmer climate, which he found in Austin, where he was hired in 2014 to be the head juniors coach at the local rowing club. Eighteen months later, he was promoted to rowing director.
During his tenure, the Austin club's rowers consistently finished among the top 20 at USRowing's Youth National Championships. Half of his juniors were recruited to row competitively in college, and several of his older rowers – ages 27 and up – earned trips to the Masters Nationals.
A certified rowing instructor, Work also has helped teach paralympic athletes.
"Most of my career, I've been a competitive rowing coach, and I plan to do the same in Vero Beach," he said. "But I also want to reach out to the community, bring more people into the sport and expand the club's presence.
"We're going to try to involve everyone – veterans, homeless groups, first responders, para-athletes, middle school and high school kids, and especially seniors," he continued. "There's a significant retirement population in Florida, and rowing is a great, low-impact sport that produces incredible benefits.
"My goal is to do what it takes to make this sport as big in Vero Beach as possible. That means we have to do more than build a rowing center. We have to build a rowing culture."
Work said Vero Beach Rowing currently has about 120 members – 50 masters rowers and 60 to 70 juniors and high school athletes. He will be the club's only full-time employee.
"There's a lot to do," Work said, "so I'm going to hit the water rowing."