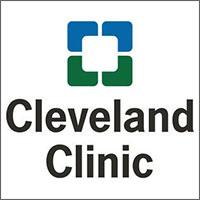 Cleveland Clinic CFO sees Oct. 1 close for merger
STORY BY MICHELLE GENZ

The CFO of Cleveland Clinic, Steven Glass, has apparently blocked out Monday, Oct. 1 as his hoped-for date to celebrate the closure of Cleveland's high-stakes merger with Indian River Medical Center.
In a phone interview with a financial publication, The Bond Buyer, Glass said "We are currently [negotiating] . . . a definitive agreement with them and if that is successful they will fold into the Cleveland Clinic Health System probably around Oct. 1."
It was the first time a top Cleveland Clinic executive has confirmed that date, which had previously been floated by local hospital leaders, and Glass continued to make news.
The article quotes him as saying he hopes to reach a definitive agreement with Martin Health on its three hospitals "within the same timeframe."
As for Boca Regional Medical Center, Glass told the paper he expects that hospital to have made its choice of partner "in the next month," and is hoping it will be Cleveland Clinic.
"With that we will be building a very large integrated delivery health system in South Florida and leveraging what we have been able to do," Glass continued.
The Bond Buyer quoted Standard & Poor's latest report on Cleveland Clinic, which made mention of the Florida foray as well.
"If CCHS completes a deal with any of the Florida organizations it would bolster its strength in the market," said S&P. In August 2017, Standard & Poor's raised its rating on Cleveland Clinic's bonds from AA-minus to Aa2, reflecting "the health system's strength as an international brand, which will allow it to grow revenue outside of the constrained northeast Ohio market."
In fact, even as it maneuvers to make a substantial expansion into Florida, Cleveland Clinic is working on major ventures in Europe and Asia.
Glass was talking with The Bond Buyer about how Cleveland expects to finance its expansion to London. He said the healthcare company plans to privately place bonds in pound sterling equal to about $530 million to finance a new hospital near Buckingham Palace. It already has hospitals in United Arab Emirates and in Toronto.
According to The Bond Buyer, the British bond proceeds will refinance a bridge loan of $375 million that dates to 2015, when the health system bought a handsome white structure at 33 Grosvenor Place. The balance of the bond proceeds will go toward construction costs in turning the building into a 200-bed, state-of-the-art private hospital. It is expected to begin outpatient services in 2020, and inpatient services in 2021.
The notes will be under Cleveland's UK holdings company but guaranteed by Cleveland Clinic's U.S. system, Glass said. In late February, the health system announced that 2017 revenues rose to $8.4 billion, compared to $8 billion the previous year. Operating income rose nearly 36 percent to $330.6 million.
Earlier this month, Cleveland Clinic was in the news for its first foray into China, where it has joined in a strategic collaborative with a medical group at Shanghai New Hong Qiao International Medical Center.
The business journal Crain's quoted Cleveland COO Bill Peacock: "As China plays a more significant role in the global community, it is evident as an organization that we must also play a role collaborating with China and helping local partners provide world-class care."
Closer to home, Cleveland Clinic Florida opened the doors July 16 to its latest south Florida enterprise: Coral Springs Family Health Center, a 78,000-square-foot ambulatory surgical center with four operating rooms, eventually expanding to six. It offers 17 medical specialties and imaging capabilities. The center is well-positioned geographically to attract patients from north Broward County as well as southern Palm Beach County.
This fall, Cleveland Clinic Weston will open a new 180,000-square-foot bed tower adding 75 more beds to that Florida facility. And at Cleveland Clinic's main campus in Ohio, a pediatric outpatient center is set to open in September.
Taking over Indian River Medical Center, a deal in the works since January following a selection process that began last November, would seem a drop in the bucket compared to the big-bucks ventures the health system has underway. But it is hardly an insignificant sum: In its proposal, Cleveland Clinic said it expects to commit to total capital funding of $200 million to $250 million over a period of a decade.
"Although the health system has no plans to issue additional debt this year, it is projecting continued high capital spending through fiscal 2023. It anticipates average capital expenditures of approximately $1 billion a year during this period," The Bond Buyer article said. It went on to quote S&P:
"With its very strong enterprise and financial profiles we believe CCHS has and will consistently execute on its strategy and thereby support the [higher Aa2 bond] rating in the next several years," S&P said. "While CCHS is likely to issue more debt in the next five years, we don't expect to change the rating if CCHS achieves its overall forecast."