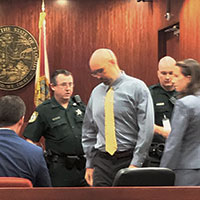 Judge rules accused killer of nurse will face death penalty
STORY BY LISA ZAHNER
Photo: Michael Jones during his Vero Beach court appearance last week.

The family of Diana Duve, the 26-year-old nurse killed in June 2014, may take some solace in last Friday's court rulings affirming the State of Florida's ability to seek the death penalty against defendant Michael David Jones if he is found guilty of first-degree murder for her death.
Judge Cynthia Cox denied nine out of 10 of the defense's motions to disallow the death penalty. One motion resulted in a compromise whereby prosecutors and defense attorneys would agree on proper jury instructions to emphasize that the jury's recommendation of either death, or a life sentence upon conviction, is significantly more binding that just advice to the judge.
Jones, 35, was initially arrested on second-degree murder charges, as the state can only formally charge first-degree murder upon indictment by a Grand Jury – a ruling that panel handed down on Aug. 26, 2014, thus allowing prosecutors to ask for the death penalty should he be convicted.
The case now appears to be headed for trial either later this year or in early 2019 after being stalled for more than two years. Attorneys and judges are specially trained and certified to handle death penalty cases, which are prosecuted on the assumption that they will face appeal.
An investment advisor at the Ocean Drive branch of PNC Wealth Management at the time of his arrest, Jones, 35, appeared in court last Wednesday with a completely shaved head and scruffy goatee in business attire – dress pants, a blue-gray dress shirt, yellow tie and black-rimmed glasses.
During previous proceedings held in Fort Lauderdale for a violation of probation charge in which Jones was found guilty, and another trial in Broward in which he was acquitted, Jones, an attorney by training, collaborated with his legal team in a collegial fashion. But last Wednesday in Judge Cox's courtroom, he faced front, sat silent.
Some of the issues Cox weighed in on relate to recent changes in Florida's death penalty laws and the fact that the alleged crime in this case happened prior to those changes, Cox agreeing with Deputy Assistant State Attorney Tom Bakkedahl that prosecutors met all the requirements in a timely fashion to comply with changes to the law.
Other defense challenges by Assistant Public Defender Stanley Glenn were boilerplate arguments that the death penalty is unconstitutional.
Jones is accused of killing Duve, his on-again, off-again girlfriend, by strangulation, then driving her up to a Publix parking lot on Babcock Street in Melbourne and leaving her in the trunk of her own black Nissan Altima.
She was found by police after Duve's mother reported her missing, and after concern mounted that Duve, a Registered Nurse at Sebastian River Medical Center, had missed her work shift. A multi-county investigation was launched, with the Vero Beach Police Department as the lead agency since the young woman was last seen alive at What-a-Tavern at Royal Palm Pointe.
The couple had a history of violent, destructive behavior, according to depositions from friends and co-workers.
Duve's mother, Lena Andrews, and her stepfather – both residents of The Moorings – were in the gallery during the hearing, accompanied by a victim's advocate from State Attorney Bruce Colton's office.
As Jones was being led out of the courtroom, Duve's mother, in an angry outburst, yelled, "Jones, go back in your cage."