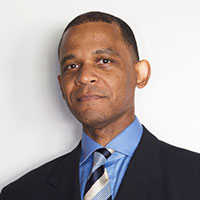 Prosecutor: Vero surgeon in drug case to 'die in prison'
STORY BY DEBBIE CARSON
Photo: Johnny Benjamin

FORT LAUDERDALE – Milling around outside a federal courtroom after Vero Beach surgeon Johnny Benjamin was told he'd serve life in prison for the death of a young woman who took pills he illegally distributed, the woman's family breathed a sigh of relief. But questions quickly followed.
Family members asked Assistant U.S. Attorney John McMillan if it was possible Benjamin's sentence could be overturned on appeal and, if the sentence stood, whether he would ever see the light of freedom again.
McMillan, a confident prosecutor who  helped secure the harshest possible sentence for Benjamin – life on two counts with an additional 20 years on remaining charges – told the family that, while Benjamin would most definitely file an appeal, his chances of success were minimal.
"This was an extremely solid trial," McMillan said.
Regarding the possibility of the disgraced doctor ever being released, McMillan said, "'Life' literally means 'life'." He told family members they can expect Benjamin to die in prison unless the case is overturned.
He commended Maggie Crowley's family for being at Benjamin's sentencing Friday. "You all are heroes in my eyes," he told them, noting that Benjamin's life sentence won't bring her back or ease their pain.
Crowley, 34, overdosed on furanyl fentanyl-laced pills that were ultimately traced back to Benjamin, who prosecutors said was the kingpin in an illegal drug distribution organization. She left behind a husband, parents and siblings, and a host of other family and friends who gathered in the courtroom to address Federal District Judge William P. Dimitrouleas and Benjamin prior to sentencing.
Crowley's husband, Shaun Crowley, said after the hearing that he felt a sense of relief.
"Maggie didn't die in vain," he said, explaining that no one else will now fall victim to Benjamin and his drugs. Without her death, he suspects that law enforcement would not have been "able to get the monster off the streets."
"He took the best person in the world," Crowley said of his wife, holding back tears. "He deserves worse."
Throughout the one-hour sentencing hearing, Benjamin sat stoically at the defense table, only speaking when directly addressed by the judge.
Even then, he limited his answers to "Yes, sir" and "No, sir."
It did not appear anyone in the courtroom was there to support Benjamin.  He was given the chance to address the court and say something on his own behalf during the hearing, but did not do so. 
During the family's testimony, Benjamin turned his head toward them, listening but not showing any outward emotion.
U.S. Attorney McMillan would later tell Crowley's family outside the courtroom that Benjamin likely had been coached to show interest in their testimony.
"He's shown no remorse," Maggie Crowley's uncle and godfather, Louis DiVita, told the judge. He said he'd had to leave the courtroom during the prosecution's display of photos that showed Maggie's body.
"I fight these memories by remembering the little girl singing 'Tomorrow' over and over until I couldn't stand it."
Other family members shared fond memories of the young woman and asked the judge for the maximum sentence.
"To say Maggie's death has broken my heart is an understatement," said one of her cousins. "I still cry often. The grief hits so hard sometimes."
Crowley's father, Joseph DiVita, struggled to address the court.
"We suffer her loss every day," he said, adding that his pain is compounded because he feels powerless to help his wife and three surviving children feel better.
He implored the judge to make Benjamin suffer as his family does, urging him to make sure Benjamin "takes his last breath in a prison cell."
"We have been given a life sentence," said John Sterople, her brother-in-law, calling on the judge for Benjamin to serve a life sentence. "Anything less than that devalues Maggie's life."
Benjamin's defense attorney Philip Reizenstein, who was brought on to the case 10 days before the sentencing hearing after Benjamin released his trial attorneys, argued that the court should not have proceeded with the hearing before he had time to prepare.
He also disputed the federal court's jurisdiction on the two counts that resulted in the life sentence – participating in a conspiracy to possess with intent to distribute furanyl fentanyl which resulted in death, and aiding and abetting the distribution of furanyl fentanyl which resulted in death.
Benjamin was also convicted on charges of attempted possession with intent to distribute acetyl fentanyl, possession with intent to distribute oxycodone, and conspiracy to possess with intent to distribute hydrocodone and oxycodone.
Judge Dimitrouleas overruled the objections.
Reizenstein had attempted to reframe Benjamin as a problem-solver and community do-gooder, a man who sponsored the Vero Beach High Girls Lacrosse Team, paying for their championship rings year after year, and who sent a bus full of kids to a shoe store and bought them all shoes because they were in need.
He mentioned several awards and commendations Benjamin had received from community groups such as the Gifford Youth Achievement Center, Dollars for Scholars and Glendale Elementary.
"He saw a problem, he went out to fix it," Reizenstein said of Benjamin.
It was a point on which Asst. U.S. Attorney McMillan and Reizenstein could agree – though for different reasons.
McMillan said it was obvious Benjamin was a problem-solver, but the overriding problem he needed to solve was financial in nature, which led the doctor to get into the drug trade.
Along with the heavy prison time, Judge Dimitrouleas ordered Benjamin to pay a $25,000 fine and more than $10,000 in restitution to Crowley's widower and her parents.  Fifty percent of any wages Benjamin earns while in prison will go to satisfy those obligations.
Benjamin has until July 20 to file an appeal.
The two other men tied to the case, Kevan Slater and Zachery Stewart, are due in court later this month for sentencing.
They are the informants who helped DEA agents gather evidence against Benjamin.