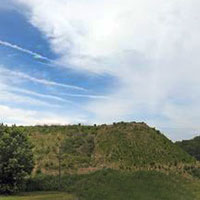 County landfill hits height limit, so new section to be opened
STORY BY KATHLEEN SLOAN

Mount Dump, the highest elevation in Indian River County, is finally topping out at 180 feet.
The 25-acre mound of garbage has reached the height limit imposed by the state – you can see the dirt covered hill from I-95 – and a new section of the Indian River County Landfill needs to be opened.
Engineering and construction costs to close and cap the old section, or cell, will be approximately $10 million, and it will cost another $8 million to put in the infrastructure for the new 11-acre section. The work will take about a year and a half to complete.
The county commission last month approved a contract for both phases of construction with low-bidder Thalle Construction Company of Hillsborough, N.C., for a little over $16 million. Engineering and design work, awarded to CDM Smith of Vero Beach in July 2017, will total a little over $2 million by project end.
The county has money for the closure on hand in a DEP-mandated escrow account, but only has about $2.2 million available to build the new section, leaving it $5.8 million short. 
Utilities Director Vincent Burke told county commissioners the shortfall will be a key item in the Solid Waste Disposal District's upcoming budget presentation for fiscal 2018-19.
Polyethylene geomembranes will be sewn together to line the new site. "The proper installation of these liners is critical to the long-term integrity of our landfill and the protection of the underlying groundwater system," Burke said.
Fill to stabilize the foundation of the new cell and to cap and grade the sides of the old cell will cost about $5 million, which is included in Thalle's construction cost. The dirt that will be used has to meet state standards, Burke said.
The leachate collection system and storm water management system at the site will be expanded, including the construction of a new lift station and water main extension. New interior roads will also need to be built.
The landfill gas system, which collects methane gas produced by decomposing garbage, will be expanded. Forty new gas wells, with new head piping and pumps, will be added.
INEOS, a biofuel company that went out of business in 2016, purchased about $25,000 a year in gas when it was operating. Now the gas is being burned off, or "flared," since there is no buyer, said Solid Waste Disposal District Managing Director Himanshu Mehta.
"After we get the cap on [the closed cell], the decomposition will increase," Mehta said. "Then we'll know better what volume we have to sell."
County Administrator Jason Brown said natural gas prices have gone down, diminishing demand for methane gas and reducing the county's ability to offset landfill operations cost with gas sales.