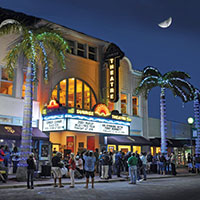 Director who brought big names to Sunrise Theatre dumped
STORY BY MICHELLE GENZ

When the City of Fort Pierce took over the historic Sunrise Theatre after a donor-funded $11 million renovation, officials apparently didn't understand what the president of the board during that decade-long renovation, Vero attorney Michael Horowitz, says he already knew:
"Theatres never make money, never," Horowitz says.
Now, the man Horowitz hired to bring big-city talent to the small-town theatre, John Wilkes, has been let go by Fort Pierce's city manager. An interim director has been appointed – Sharon Engle, Wilkes' assistant at Sunrise, while a search for Wilkes' replacement is expected to take several months. The city intends to hold a public workshop in June to see what people "desire for the future of the Sunrise Theatre."
Wilkes, 65, had been chief operating officer of West Palm's Kravis Center and executive director of Sarasota's Van Wezel Hall before joining the Sunrise in 2008. An Ontario native who once handled booking for Toronto's 10,000-seat arena, Wilkes had developed countless personal connections from his long career.
That opened doors for him to bring major musical stars to Fort Pierce – Tony Bennett, Willie Nelson, Diana Ross, Johnny Mathis, B.B. King, Gladys Knight and the Moody Blues – along with top comedians Jackie Mason, Sinbad, Jay Leno, and John Cleese and Eric Idle of Monty Python fame, who performed in 2015.
Comedian Ron White delivered the Sunrise national press when he got himself arrested in Vero on one visit – and was three hours late to his show. And yes, Bill Cosby played Fort Pierce multiple times; Wilkes considered him a friend.
Wilkes commanded a salary in keeping with that clout – a reported $128,000. Whether that number, which was high for a Fort Pierce city employee, played a role in his firing is not clear. But the fact that he was never able to make the theatre self-sustaining appears to be at the root of the city's discontent.
Losses at the theatre climbed steadily in recent years to $1.6 million in 2017. Despite the losses, City Manager Nick Mimms said in a press release that shows booked for the 2018-2019 season "will proceed as normal."
Built in 1923 for vaudeville acts, the theatre, which showed movies for most of its existence, was the largest between Jacksonville and Miami. It closed in 1983 as the Fort Pierce downtown deteriorated.
In 1988, the local Main Street organization began to look seriously at renovating. Eleven million dollars later, the project was completed in 2006, and the city assumed both ownership and management.
Now, at least one Vero-based investor in downtown Fort Pierce properties, Hans Kraaz, must be following the Sunrise debate closely. Over the past two decades, Kraaz is said to have invested heavily in the Fort Pierce downtown. He is partners in Sailfish Brewing Co., which a year ago greatly expanded by moving into the former J.C. Penney building. Kraaz's company developed an office building on Second Street. He also reportedly wants to develop land he has purchased behind the P.T. Cobb building.
In addition, the Vero Beach team of developer Keith Kite and contractor Don Proctor are awaiting the Fort Pierce City Commission's decision May 21 on their proposed hotel project on the site of the old Fort Pierce power plant.
And hundreds of Vero residents who rely on the theatre for national live music and comedy acts could be looking at a much longer drive to such events – to Melbourne or West Palm. In years past, a fifth of the Sunrise audience came Indian River County, with around 500 patrons a year coming from Vero's barrier island.
Fort Pierce officials have called for the public to voice concerns or support for the Sunrise in an online survey and the June workshop.
That invitation for comment is causing Horowitz concern. "If the city manager says they're going to have a public forum to discuss the future of the Sunrise, that says to me they're not sure whether there is a future for the Sunrise," he said.
To Horowitz, closing the theater would mean "the city is failing its citizens."
"I hope to God it doesn't happen," he went on. "I think if that happens, the city is making a huge, huge mistake."
It would be hard to overstate the draw the Sunrise has been to Fort Pierce's quaint downtown. On evenings of a performance in the 1,200-seat, century-old theatre, the streets surrounding it, which stretch east from U.S. 1 down to a long waterfront park, fill with patrons arriving early to dine, have a drink at outdoor cafes, or stroll along the edges of the recently expanded and upgraded marina.
Even on jazz or comedy nights in the Sunrise's more intimate Black Box theatre, the ripple effect of those 200 or so patrons noticeably enlivens the scene.
Prior to the theatre's 2006 reopening – and the extensive downtown rehabilitation that followed – professionals like Horowitz, who had his law office next door to the Sunrise, didn't stay downtown after dark, he said. "Now it's incredibly vibrant."
Horowitz said fundraising grew more difficult after the city took over. "It's not so easy to have a city-run building and ask people to donate their money," he said.
"I think the city is failing to understand that there are no theatres that are profitable. It just doesn't exist," said Horowitz. "Theatres are part of the community. It's no different from having a baseball stadium or a park. If you want to have the arts, you have to understand that there's a financial commitment to that."
Music producer Darryl Bey, who regularly brings national and regional blues, Latin jazz and R&B acts to Sunrise's Black Box theatre, believes there is little support for such cultural offerings among city officials.
"The city has turned its back on the theater," said Bey. "It supports it financially, but I don't believe they support it emotionally and morally. You can't just throw money at it, you've got to go to shows and encourage friends to go. And not ask for free tickets." 
Still, the theatre's viability depends on other factors as well. "No, I am not getting the audience" needed at Sunrise, Bey admitted.
"One of the things you have to consider is that nationally, live entertainment is having difficult times. With the advent of smartphones, you can pull up iTunes and Apple Music and literally go and get music free. People are also afraid to go out and drink because of DUIs. And a lot of it is ticket prices."
While the Black Box seats are typically around $25, prime seats for acts on the Sunrise main stage can top $100.
Bey did not dismiss the notion that the Sunrise could close. "I don't know what's going to happen. In my mind, it could go either way.
"The theatre has lost money since it opened," he said. "The city went into it knowing they were going to have to subsidize the theater. Ideally, the subsidy should have gotten less and less. That didn't happen – public theatres never make money. But they do drive business to downtown restaurants and stores."
He said the Sunrise brings an estimated 75,000 people a year to Fort Pierce's downtown, from as far away as Orlando.
"The Sunrise is a very important structure downtown. It is the reason development has moved ahead downtown. It's a huge asset for the city, and it's critical that they bring in a strong director to make sure it survives."
Bey said Wilkes' lifelong connections will be hard to replicate in a new director. "He has brought in some top-name shows. It's going to be hard to replace him because he's so well connected in the industry."
Wilkes, who received six months of severance pay, was apparently not forewarned of the termination. "He was a little caught off guard by it," said Doris Tillman, the longtime leader of Fort Pierce's very active Main Street organization. Tillman said Wilkes expects to continue consulting for theatres.
"John is such a gentleman. He has said very nice things about wanting to continue to work with the Sunrise and support it."
Tillman, who for years ran an office supply store in downtown Vero, was in at the very start of the Sunrise resurrection, when Wilkes drove "on his own nickel" from Sarasota to help with the theatre's planning.
Once he was formally hired, he became an ambassador for theatre, introducing himself by bringing candy to all the shop owners.
"I remember seeing him out there at one in the morning planting flowers in front of the Sunrise," she said.
Tillman and her team of Sunrise volunteers wanted to welcome Wilkes with a gift. They got their inspiration when the Sunrise finally bought a new curtain for the stage.
"We took some of the old curtain and had them made into a pair of shorts," she said. Wilkes immediately tried them on – burgundy velvet, with gold fringe sewn along the hem – and gamely posed for a picture.
The photo has been on Tillman's bulletin board ever since.
When Wilkes went into the hospital midway through his tenure, Bill Cosby dropped in to visit him, Tillman says. The kindness was no doubt reciprocated.
"That's the kind of person John is, and he's very good to anyone he works with. I'm sure the stars were well taken care of."
Horowitz says Wilkes will be difficult to replace. It was he who tracked Wilkes down in 1999 based on a recommendation from the manager of Palm Beach's Royal Poinciana Theater. Horowitz and his board wanted expert consultation on the theatre's renovation and Wilkes served as consultant for a couple of years.
When the theatre was finally ready to open in 2006, another director was hired. "At the end of the year, we were $1.3 million in debt," recalls Horowitz. "[The first director] booked great shows but he overextended himself."
It was then the board brought Wilkes back on a full-time basis.
"Trust me, I interviewed a lot of people from that industry. It's hard to find people that are really, really good. They're not that easy to come by, especially at the salary the city wants to pay. John was paid higher than most city employees, but I think they were shortsighted in making the decision [to let him go.]"
Wilkes has taken pains to part with no ill will from the city.
Last Monday, he appeared at a city commission meeting just to thank commissioners for their support. "Typical John," says Horowitz. "He has such integrity. He's an amazing, amazing person."
Wilkes also returned the velvet shorts. He told Tillman, "You can give them to the next guy."