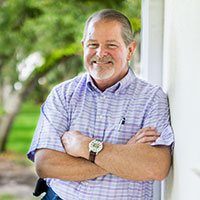 Shores town manager calling it quits after 28 years
STORY BY LISA ZAHNER
Photo: Indian River Shores Town Manager Robbie Stabe.

When Indian River Shores Town Manager Robbie Stabe announced last week that he'll be stepping down in late July, he was the third key Shores official to call it quits this spring. Mayor Brian Barefoot and Chief Building Official Jose Guanch also have resigned.
Stabe's announcement came on May 17, five years plus one day after he officially shifted from Public Safety Director, which is a combination police and fire chief job, to Town Manager, taking over for Richard Jefferson.
Stabe, 55, is leaving on doctor's orders.
"I was faced with a decision – do I ignore my doctor's advice and tough it out and risk my health? Or do I recognize that just shy of 28 years of service is enough and retire?" Stabe said.
When he was Public Safety Director, Stabe had a stressful job, but he got regular time off. As Town Manager, not so much. A long weekend has had to suffice as a vacation and that seems to have taken a toll.
Stabe said the breadth and depth of the job of Town Manager has changed drastically from what it was when he took it on.
"The position has rapidly evolved over the last five years. With the never-ending governmental mandates placed on municipalities, changes in communication requirements, information technology and website requirements, etc., it has become more and more difficult for one person to manage so many projects/issues with such a limited staff," he said.
Constant changes and crisis management leave little time for planning, Stabe said. "Instead of looking ahead and anticipating potential future needs of this community, there simply aren't enough hours in the day to effectively and efficiently manage the day-to-day operations of the Town."
Projects that have topped his list are rebuilding Old Winter Beach Road and creating a new Community Center. Looking ahead, public safety labor negotiations are on deck and the Shores is ramping up for what's expected to be a moderate building boom. The Town cell tower is another work in progress, though it should be operational soon.
Stabe began his career with the Shores on Oct. 9, 1990, as a Public Safety Officer. He was the first officer ever assigned as a full-time criminal investigator for the agency.
"I held every position, including sergeant, lieutenant and then captain," said Stabe, who earned his Bachelor of Arts Degree in Organizational Management from Warner University in 2002.
 Prior to being promoted to chief in June 2012, Stabe said one of the highlights of his career was graduating from the 229th Session of the FBI National Academy in Quantico, Virginia, in June 2007.
Stabe also has good memories of directly serving the public as a 29-year paramedic. "I had the pleasure of saving a number of lives during my career," he said.
"Some of my most memorable include a baby I delivered, a Town couple that I pulled from a very serious car accident, and when I performed CPR on one of our Public Safety Volunteers who had collapsed during an ocean rescue training exercise and we were able to bring him back."
Stabe said running the Shores is "truly a team effort," and that leaving his long-time colleagues is going to be the toughest part of giving up his job.
"I have established excellent working relationships with all of my employees, but it's more than that. When you work together for nearly 28 years, you establish friendships too. The employees of this Town are amazing. They truly pour their hearts and souls into everything they do for our residents and I am very thankful for and proud of all of them.
 "As the Town Manager, I have gotten to know many of our residents on a more personal level," Stabe said. "I have been blessed and it has truly been both an honor and a privilege to serve the Town of Indian River Shores for more than half my lifetime."
Stabe said he's proud of the way the Shores Town Council manages taxpayers' money, and that he's grateful to the leaders he's worked with and for.
"To former Mayor Brian Barefoot, Mayor Tom Slater and the Town Council, though I didn't always see eye to eye with each of you, I respect your positions and know that our citizens appreciate how you represent them," Stabe said.
His parting advice to councils and managers going forward is this: "It is my hope that you never lose sight of the valuable group of people I have had the privilege to assemble to serve our citizens and that you take good care of them as true assets to the Town."