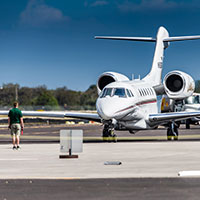 Additional airlines seen interested in flying to Vero Beach
STORY BY RAY MCNULTY

Nearly three years after Elite Airways began offering commercial, nonstop jet service between Vero Beach and Newark, N.J., the company's success here has created a buzz heard throughout the industry – so much so that other airlines have taken notice.
Some of them are now exploring the possibility of adding Vero Beach to their route systems.
"We've been talking to different airlines all along, but now they're seeing what Elite is doing here and it has gotten their attention," Vero Beach Regional Airport Director Eric Menger said. "They see the numbers, that Elite has been profitable here, and they're looking to see if there's an opportunity for them."
Elite officials have said repeatedly that Vero Beach has become the airline's most successful market, from which it offers year-round flights to and from Newark and seasonal service to Asheville, N.C.; White Plains, N.Y.; and Portland, Maine.
According to the airport's website, most flights are operating "at or near 100-percent capacity" through the winter months and "consistently in the 80 to 90 percent range" during the slower summer months.
Not only has the Vero Beach community supported Elite's service, Menger said, but air travelers here also have shown they're willing to pay higher fares for the convenience of flying out of and into their local airport, where wait times are short and parking is free.
"Elite has proven that fares can be a little higher, because people are willing to pay more to avoid driving to the airports in Orlando and West Palm Beach," Menger said. "Other airlines are noticing that, too."
Though nothing is imminent, and he doesn't expect anything to happen in the next six months, Menger said he has spoken with officials from airlines of all sizes – as large as Delta, American, United and Southwest, and as small as Southern and Via. He also has had conversations with discount airlines, such as Allegiant, which also serves the Orlando/Sanford airport.
"We'd be a good option for a number of airlines," Menger said. "A lot has to do with their network plans and how we'd fit in. All we can do is reach out and give them the data. The big thing, right now, is that we're developing relationships."
The goal, Menger said, is to expand service to markets beyond those offered by Elite – not to compete with Elite, which began offering commercial flights here on Dec. 10, 2015.
He said surveys commissioned by the airport revealed that many travelers here would welcome service to markets in the Midwest.
"We still strongly support Elite Airways, and we'd like to help them with growing their network," Menger said. "At the same time, we would love to find another airline that would fit in here and open up other markets that would complement Elite's service."
Menger said Elite officials are aware of the city's interest in attracting other airlines to Vero Beach. Likewise, he knows Elite is exploring other markets.
Adding a second airline almost certainly would require city officials to expand the airport's current terminal building, especially if the new airline's fleet includes larger jets, such as 737s.
Elite uses smaller jets that seat 50 or 70 passengers.
"Right now, we have seating for 70 to 80 people in our secure waiting area," Menger said. "With a 737, we'd probably need 120 to 180 seats, so we'd need to find more room. It's like widening a road to accommodate more traffic."
Menger said the airport's existing runway and taxiway system is large enough to handle a second airline, even one that uses larger jets.
"We already have 737s flying in and out of here," he said, "but they're privately owned."