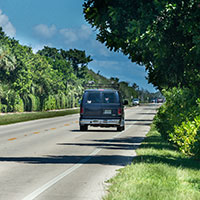 Indian River Shores residents win battle to block sidewalk
STORY BY RAY MCNULTY

The road through Indian River Shores might be repaved with good intentions, but not even the Florida Department of Transportation's compromise proposal for resurfacing nearly seven miles of the A1A through the seaside town made everyone happy.
Not yet, anyway.
FDOT Project Manager Donovan Pessoa was cheered by the standing-room-only crowd gathered in a conference room at Vero Beach's Holiday Inn Oceanfront when he announced, "The sidewalk on the east side is no longer."
He was referring to FDOT's decision to remove from the $7.3 million project a planned sidewalk along the east side of A1A. The decision came in response to a flood of letters, emails and phone calls from town residents and elected officials who pointed out there's already a not-much-used sidewalk along the west side of A1A in the project area.
Under the compromise proposal east-side sidewalk construction will be limited to two short sections in relatively "commercial" areas.
One section will begin at the 7-Eleven store at the south end of the project, extend north in front of the CVS Pharmacy and end immediately south of Pebble Beach Villas.
The second stretch will run from Beachcomber Lane, directly across A1A from Fred Tuerk Drive, north past the Village Shops and end at Holloman Drive, just north of the Bank of America.
A pedestrian crosswalk is planned for the intersection of Fred Tuerk Drive and A1A.
"Based on the first meeting, we had to go back and re-evaluate how we should do things," Pessoa said, adding that the limited east-side sidewalks were "two little accommodations" FDOT believes are needed for safety reasons.
No one in the room voiced an objection to putting sidewalks in those areas.
Pessoa was cheered again when he announced, "We're also going to widen the road to put in the 7-foot bike lanes" – something cycling groups pushed for after the original plan failed to include any widening or buffering of the existing 4-foot-wide bike lanes on A1A.
The only hitch was that the widened shoulder won't be an official bike lane, with special striping and signage, along a third of the 6.7-mile project.
Pessoa said a recently adopted FDOT policy prohibits bike lanes from being installed on roads where the speed limit exceeds 45 mph. The speed limit along a 2.3-mile stretch of A1A is 50 mph.
Cyclists say A1A is the most heavily traveled bike route in the county, and they want FDOT to reduce the speed limit to 45 mph and include bike-lane signage and buffering along the entire 6.7 mile stretch. 
Pessoa said FDOT has no plans to do so – but that, too, could change. "We can talk to the people at traffic operations and see what we can do," he said.
The new start date is January 2020.  The project, which also includes traffic-signal and drainage improvements, is expected to take one year.