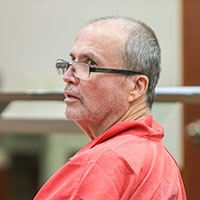 Islander accused of murdering his wife struggles to represent himself in court
STORY BY FEDERICO MARTINEZ
Photo: Asbury Lee Perkins.

Asbury Lee Perkins, who is representing himself in his first-degree murder case, hasn't gotten any more skillful at lawyering since his last court appearance  year ago.
At a hearing on Oct. 30, Judge Cynthia Cox rejected 10 out of 12 motions filed by Perkins, as he scrambles to find documents and evidence to build a defense against changes of premeditated murder in the shooting death of his estranged wife at her South Beach home on Seagrape Drive.
Perkins, 60, was arrested Nov. 4, 2015, and charged with the shooting death of Cynthia Betts. 63.
When Indian River County Sheriff Deputies arrived at the house in Oceanside, they found Betts' body wrapped in carpet in the laundry room with multiple gunshot wounds.
Deputies said at the time that Perkins admitted to killing her because she took money out of a bank account without his knowledge and said she continually nagged him.
Perkins told investigators that he had planned to put his wife's body in the trunk of the car and drive it into a lake, but ran into "complications with his plan," according to the arrest affidavit.
Cox rejected Perkins' motions last week because the documents "don't exist," were "already provided" or because the requests were so vague, they can't be addressed.
Perkins' motions became more baffling as the hearing went along, eventually trying the judge's patience.
"Why are we here? We've already dealt with most of these," a visibly agitated Cox asked Perkins at one point. "What is it you're asking?"
Perkins first motion was to try to subpoena another judge for unspecified questioning, which Cox quickly rejected because, "well, you just can't do that."
By law, a judge is not subject to deposition.
Cox then rejected a motion by Perkins to subpoena the new owners of his former residence to force them to turn over the floor plans to the house where the alleged crime took place – although Perkins admitted he didn't know if they had those documents. He also wanted to subpoena "public records" to obtain the floor plans.
"You can't just issue subpoenas if you don't know if they have them," Cox said. "You can't just harass people."
Cox also explained that Perkins needed to specify the name of any entity he is seeking public records from and exactly what records he wants.
"I don't know who has [floor plans]," Perkins replied.
Cox did approve two motions – Perkins was previously granted permission to undergo hypnosis, but said he had not received a response from any hypnotists.
Weary of delays, the state attorney volunteered to help Perkins schedule that procedure.
The state attorney also agreed to help Perkins obtain phone records from AT&T.