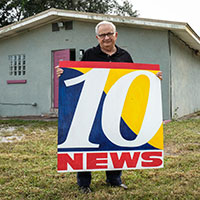 Vero's TV 10 sold to Spanish-language network
STORY BY MICHELLE GENZ
Photo: Jose Guerra sells local Vero Beach TV station after twenty years of ownership.

After more than two decades on the air, WWCI-CD, better known as Vero's TV 10, has gone dark.
Owner Jose Guerra was clearing out the last of the equipment and paperwork last week after finally agreeing to pull the plug on the orders of the new owner:  Spanish-language network Azteca America.
The half million-dollar deal closed in August. But Guerra, 80, kept the signal up, managing to fill the station's final weeks with re-runs of past shows and the occasional short newscast.
Today, a generic message informs Comcast subscribers that former programming is unavailable.
To its small-town cadre of fans, TV 10 was anything but generic, its on-air "personalities" earning cult status: Josefina, the 71-year-old body-builder, Bob and Bob, the wine guys, and Marcia Littlejohn, the popular talk show host.
WWCI-CD, the longtime local "must-carry" station, aired on Comcast's channel 11. But it also broadcast the old-fashioned way – from a TV tower behind its original home on 12th Street, with a transmitter situated south of that at the county dump station off Old Dixie Highway. Though he wasn't sure why, Guerra said his engineers preferred to do their work there after dark. "You should have seen the rats," he said. "They had to take a gun."
It took more than rats to scare off Guerra, who says over the years people threatened him to try and force him to sell them the station. In the end, Guerra got $530,000 for his mid-1990s investment of $5,000, which covered the station's license and construction permit.
Not a bad return. But it was a far cry from the $27 million he was hoping for in May 2016, when the FCC placed that value, improbable as it may seem, as the starting bid in a national "reverse" auction of low-power TV stations designed to free-up underutilized bandwidth for video and cellphone use.
The term "reverse" referred to the auction starting high, with prices expected to fall as telecom companies like AT&T, Verizon, Sprint and T-mobile bought up stations. "There are fears that the goal won't match the outcome," wrote Don Reisinger in Fortune, a few months before the auction launched.
That turned out to be an understatement. At each stage of the multi-stage auction, with cellphone companies bidding only a fraction of the $60 billion broadcasters had expected, TV stations started dropping out. Guerra doesn't remember how long he stayed in. He does remember that he and his assistant, Alex Zulueta, were glued to the confidential FCC website, waiting to see if a bid came in.
"It was waiting, waiting, waiting, then – OK, I'm going to have lunch.  Then keep waiting, waiting at the computer online," says Guerra, who despite being in the U.S. for six decades has not lost his thick Cuban accent.  
Some station owners were lucky, and bids did come in – to the tune of $19.8 billion, according to the FCC website, $10 billion of which was divided among 175 winning stations. Another $7 billion was collected for government coffers.
But for Guerra, the FCC's auction turned out to be a crushing disappointment. As he understands it, by the time the auction finally wrapped up, none of the communication giants had bid for WWCI.
"They destroyed many people," Guerra says, hunched over his knees in an office chair amidst piles of debris ready to be moved out of the station's modest studio, a tiny pink house with green shutters in an Old Dixie warehouse district.
"Nobody knew what to do in this business of small TV stations. Do you keep your people selling advertising, or do you stop? Do you keep buying equipment? Say Comcast offered $28 million; you immediately had to go off the air. It created a false world for the small owners because they expected something, plus it cost you all the paper work and legal expenses."
Instead, Guerra's V-One Broadcasting sold WWCI-CD this past summer on the open market, without a broker, to HC2 Station Group, which last year had acquired Azteca America.
HC2 is owned by hedge fund billionaire Philip Falcone, the founder of Harbinger Capital who in 2013 reached a $18 million settlement with the Securities and Exchange Commission. He was banned from the securities industry for five years and had to admit wrongdoing in a case involving, among other things, the use of $113 million in fund assets to pay his personal taxes.
Currently Azteca America's programming airs on WWHB-48 in Stuart. Both Vero and Stuart are part of the West Palm television market. According to the online investment newsletter Seeking Alpha, HC2 has spent close to $100 million on 164 operational stations and 400 so-called silent licenses and construction permits, enough to reach 60 percent of the U.S. population.
While the sudden entry of a national player in Vero's airwaves broadcasting Spanish-language programming may be intriguing to some, the local TV 10 personalities are doubtless closer to the hearts of many longtime residents.
Handpicked by Guerra, they included Littlejohn, whose guaranteed positive spin on every imaginable Vero institution made for fearless guests and zero dish. There was a show called "Seller to Cellar" with oenophiles Bob Roth and Bob Stanley, by trade an interior designer and Ocean Grill waiter, respectively, whose taste tests on the deck of Stanley's home included hurling the loser wines – bottle and all – into the bushes.
And there was fitness guru Josefina Monasterio, a Venezuelan-born high school science teacher turned bodybuilder in late middle age. Today, at 72, she still walks the barrier island bridges with maximum musculature and minimum workout wear. Passers-by get a wave worthy of royalty.
It was Guerra who by his own admission "micro-managed everything." Unlike his stars, he could venture out without being recognized. But he kept out of the limelight, spending evenings at home with his beloved wife, Maria.
Born in Camaguey, Cuba, Guerra was studying engineering when the CIA-backed invasion at the Bay of Pigs failed spectacularly. Guerra, whose participation in a student protest groups amounted to setting fire to mailboxes on the street, was arrested with more than a thousand other resisters and held for two months in a concentration camp. When he was released, he took a commercial flight to Miami.
"My idea was to go to a training camp and return to Cuba to fight," he says. Instead, he went to Colombia, recruited by a friend working for the CIA. Guerra's job was to pose as a student to see whether Castro had infiltrated universities.
The rest of his career was more traditional; he worked in TV production and advertising. In his 50s, he decided to buy a TV station. After looking at one option in Naples, he heard about a real estate developer in Port St. Lucie who owned the license for Vero's TV 10 but had never built a station. "I bought the license for $5000," he says.
Now, Guerra is left to reimagine his life.  At the end of a hallway of framed photographs of various TV-10 guests in the station's last home, Guerra plucked listlessly at pieces of equipment and mementos. He says his wife Maria expects to him stay home and rest. But he just can't imagine that happening.
"I have worked since I was 16," he says. "I may have to find a job – or create one for me."