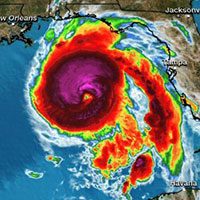 Electric hearing delayed a week by Hurricane Michael
STORY BY LISA ZAHNER

Interested parties were already in Tallahassee, or en route Monday, for a Tuesday hearing on the Vero Electric sale to Florida Power & Light when the Florida Public Service Commission announced it was rescheduling all of its business for the rest of the week due to Hurricane Michael.
Tuesday's hearing had been called because four parties had challenged a June 5 vote of the PSC to approve the terms of the $185 million sale of Vero Electric and its 34,000 customers to FPL.
Of the four parties, the Florida Industrial Power Users Group (FIPUG) had dismissed its protest, and local residents Brian Heady and Michael Moran were removed from the case on Oct. 3 after failing to appear for a pre-hearing conference to discuss issues, one of which was the standing of the parties. Only attorney Lynne Larkin and her Civic Association of Indian River County remain of the four objectors.
The Florida Office of Public Counsel has also joined in the proceedings to reiterate the OPC's position presented in June that FPL should not be able to book a $116.2 million acquisition adjustment above and beyond what the Vero system is worth on the books, according to the PSC staff and to the OPC's hired consultant.
After Tallahassee was among the areas where Gov. Rick Scott declared a state of emergency on Sunday in advance of Michael's approach, both FPL and OPC asked to have some of their witnesses excused from the Oct. 9 hearing.
Larkin also sent out a notice requesting that the hearing be rescheduled.
"I can't travel to a storm area during a state of emergency. I am actually shaking just writing this. I've been in hurricanes, and I have no desire to be in one or on the road during an evacuation. That is asking too much," Larkin wrote on Monday.
Indian River Shores Mayor Tom Slater had already boarded a plane to Tallahassee when he heard the hearing was rescheduled.
Former Indian River Shores Mayor Brian Barefoot was already in Tallahassee when he heard Larkin was requesting a continuance. Initially, Barefoot said he was confident the hearing would go on and that delay was unnecessary.
Then just after noon, PSC spokesperson Cindy Muir confirmed that the hearing had been rescheduled. About two hours later the PSC issued a notice postponing the entire week's business.
Indian River Shores and Indian River County have joined the case to support Vero and FPL in getting to a final approval so the deal can close.
Larkin had wanted the Shores tossed out as a party, asserting that Indian River County represents the Shores, so the town did not need separate recognition.
The hearing will begin at 9 a.m. Oct. 18 with technical presentations by the parties, and public comment scheduled for 2 p.m., with a continuation of the technical and evidentiary hearings on Oct. 19, if necessary.