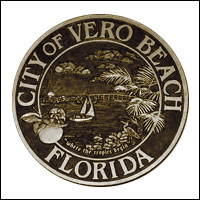 Vero plowing ahead with contested Council election
STORY BY LISA ZAHNER

Faced with a confusing set of circumstances, and a proposed solution in the form of a Dec. 18 special election, the Vero Beach City Council voted 4-1 to go forward with the Nov. 6 municipal election with the ballot as is – without Linda Hillman and Brian Heady on the ballot.
This move, unless reversed, likely leaves the validity of the upcoming vote for three seats on the Vero City Council up to the courts.
Only Councilman Tony Young, who is seeking re-election, voted to place the question of whether to hold a special election on the Oct. 16 City Council agenda for a public hearing.
Young is a qualified candidate on the ballot, along with incumbent Council member Laura Moss, Vero Chamber of Commerce CEO Robert McCabe and Vero businessman and philanthropist Robbie Brackett. Councilman Lange Sykes is not seeking re-election.
Hillman and Heady had been placed on the ballot that Supervisor of Elections Leslie Swan sent to the printer on Sept. 17. But the next day the city's legal team issued a statement declaring Heady and Hillman disqualified due to one missing signature in each of their election packets. Their names were then removed from the ballot.
Two days later the Vero Beach Canvassing Board consisting of City Manager Jim O'Connor, City Attorney Wayne Coment and City Clerk Tammy Bursick met and decided to send an ordinance to the City Council that would cancel the Nov. 6 city election, re-open the qualifying period, and schedule a special election in December.
But Councilman Val Zudans made a motion not to place the special election legislation on the Oct. 16 meeting agenda and Sykes seconded the motion.
When asked to clarify what the action would mean, City Attorney Coment explained, "Basically you kill this right now."
Prior to the vote, which came about six hours into the marathon meeting last Tuesday night, both Heady and Hillman rose to the public podium and engaged the council in a back-and-forth about various issues, including some matters that are the subject of active litigation – despite a stern warning by Attorney Coment that anything said during a council meeting was fair game to be used in court.